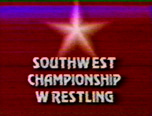 SWCW - Southwest Championship Wrestling (1978-1985)
In 1978, San Antonio promoter Joe Blanchard pulled out of his relationship with Fritz Von Erich and the Dallas office. He was determined to start a promotion and capitalize on the big markets in Eastern Texas. First, he targeted Houston and it was a huge failure. Afterward he formed a relationship with Houston promoter Paul Boesch that helped Blanchard's group get some traction. From there, they built up their contacts and relations steadily. They brought in some of the best Texas natives, some great Latin or faux-Latin talent, some of the most established names and some of the best workers of the day. Southwest Championship Wrestling became popular for their reliance on traditional wrestling and blood. As the promotion grew so did their marketability. They secured a national cable deal with USA, which propelled them to another level. They aligned themselves with Georgia Championship Wrestling, which gave them a tremendous talent pool to draw from at the time. They began running shows outside their region in California, Ohio and Georgia. However, it all fell apart very quickly. First, the Houston office realigned with Mid-South. Second, they lost their deal with USA and the WWF took over. Third, Georgia severed ties due to their own problems. Fourth, Blanchard's partner Fred Berhend sold their local TV time slot to Fritz Von Erich. The promotion imploded and Blanchard sold out to Berhend, who would start a new promotion from Southwest's ruins.
Abdullah The Butcher
Adrian Adonis
Terry Allen
(Magnum TA)
Tony Atlas
Tully Blanchard
Nick Bockwinkel
Johnathan Boyd
Bruiser Brody
Tim "Killer" Brooks
Rick Casey (Wendell Cooley)
Scott Casey
Carlos Colon
Colosso Colosetti
Tiger Conway Jr.
Bobby Duncum
Dynamic Duo (
Tully Blanchard
&
Gino Hernandez
)
"Cowboy" Bob Ellis
Eric Embry
The Fabulous Ones
(Stan Lane & Steve Keirn)
Manny Fernandez
Bobby Fulton
Dory Funk Jr.
Terry Funk
Gordman & Goliath
Mike Graham
El Gran Markus
The Grapplers (
Len Denton
&
Tony Anthony
)
Chavo Guerrero
Stan Hansen
Gino Hernandez
Ray Hernandez
(Hercules)
The Iron Sheik
"Hangman" Bobby Jaggers
Buddy Landel
Jerry Lawler
Jos LeDuc
Jose Lothario
Ken Lucas
Al Madril
Wahoo McDaniel
Mil Mascaras
The Mongolian Stomper
Ricky Morton
Blackjack Mulligan
Bob Orton Jr.
Al Perez
Tom Prichard
Ivan Putski
Bull Ramos
"Wildfire" Tommy Rich
Billy Robinson
Buck Robley
The Road Warriors
(Hawk & Animal)
Rock-N-Roll Express
(Ricky Morton & Robert Gibson)
Tito Santana
Buzz Sawyer
Bob Sweetan
The Sheepherders
(Luke Williams, Butch Miller, Johnathan Boyd)
Dick Slater
Chicky Starr
Adrian Street
Kevin Sullivan
Sweet Brown Sugar (Skip Young)
Lou Thesz
Tonga John
(Meng)
Dale Valentine
(Buddy Roberts)
"The Boogie Woogie Man" Jimmy Valiant
Larry Zbyzsko
The Zambuie Express
(Kareem Muhammad & Elijah Akeem)