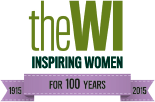 The Winchcombe WI was founded in November 1919, one of the first in the country.

We celebrated with the GFWI

The Winchcombe WI was founded on November 27th, 1919 by Marion Dent Brocklehurst.  In December 2009 we celebrated our 90th. We felt it was in keeping, as the GFWI celebrated the 90th anniversary with functions all year.

The party was held in the Methodist Hall on Tuesday December 15th, where latterly we have held our meetings. After a short business meeting, the party started. We were honoured to have Margaret Clarke, the GFWI County Chairman and Sue Wilson, the County Vice Chairman to help us celebrate.
The tables were decorated beautifully, with the flower arrangements by a member. Sausage rolls, mince pies and fruit punch were served, as well as tea! We had a wonderful cake, made by our President  iced by a member . After the cake cutting, we all had a piece, and it was excellent, as was all the food, as befits a WI catered function!
Some former members attended, including several former Presidents of our WI, making it feel like a truly special afternoon. It was a wonderful chance to talk to everyone, and enjoy the tea.
On to the entertainment. Jean Ford, a Winchcombe resident, recited some of her really witty poems and thoughts. As we all know her, it made the recital more fun. Then David Manifold, accompanied on the piano by Catherine Newman sang songs, old and new, ending with a carol, well it was December!
It was a happy, fun filled afternoon, and we felt we certainly had celebrated our 90th anniversary in style. On now to our 100th anniversary!