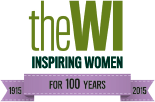 The Winchcombe WI was started on November 27th 1919 by Marion Dent Brocklehurst. It was one of the first WI's in the country, and shares its start with the GFWI. Initially they met in the Old School House [later known as the Parish Hall] in Cowl Lane, and at one time had over 100 members. However the School House had problems, and it was put  up for sale. Eventually the sale was executed in 1979.


January 26 1977 from the ADMAG archives,

"WINCHCOMBE WI members, who have paid out more than £2,000 on their Cotswold stone hall in the past six years now fear they will have to give up the property they have owned for 58 years. The president, Mrs Constance Emes, said this week: "We just can't afford to keep it any longer - it needs thousands spending on it. The toilet facilities are disgraceful and rain comes through the annexe roof." Some members have already left because they say the hall, which was once the village school and a former chapel, is too cold and dreary."
Then the members looked for other facilities. It seems that the  WI moved around quite a lot after the sale, holding meetings in Sudeley Castle, with permission from Emma Dent Brocklehurst, stopped by Lady Ashcombe.  They then moved to the Junior School, which is now the Winchcombe Community Centre  followed by The Conservative Working Men's Club and the Winchcombe Day Centre. [There was a brief spell in the Guide Hall later on.]

The aim was to move to the Winchcombe Methodist Church Hall, which they managed in the late 80's, and where they are to this day. In 2005 meetings moved from the evening to the afternoon.
2014 is our 95th anniversary