Blog
Subscribe to posts
The long journey that started back in September has finally drawn to a close.  Our
report
has been submitted, our
presentation
completed, and our
deliverables
have been compiled.  With all of our work done, the true scope of our project has finally come to realization.  With the help of our sponsor, UNESCO, and the guidance of our advisors, we have been able to accomplish much more than we could have hoped for.  During our time in Venice we were able to produce over 3,000
Venipedia
pages, create a
prioritization algorithm
based on need of restoration, establish a
cost assessment
for the restoration of Venetian material culture, and create a
mobile application
capable of guiding users to individual pieces of material culture while also allowing them to donate through the
PreserVenice
site.  With our work complete, we hope that it will continue to further the restoration of Venetian material culture and the preservation of the city's unique heritage.  For more information regarding our work, please email the team at ve11.cult@gmail.com. 
After seven weeks in Venice, our time here has finally come to a close.  Last Wednesday we showcased our work during our
final presentation
at the UNESCO office here in the city.  We would like to thank all those who attended, and everyone else who contributed to our project along the way.  Without the generosity of our sponsors at UNESCO, the members of Arzan
à, our advisors, and the rest of the students here, this project would not have been possible.  If you would like more information about our project, feel free to look at our final report or email the team at ve11.cult@gmail.com.
  

This past week, our team has continued our progress in working toward or objectives for the term. We continued field work for keystones, continued to update Venipedia and make it a more comprehensive site, and began to take a more in depth look into the traditional boats of the city. It has been very exciting!
As was previously mentioned, we are looking to locate and log each decorative keystone in the district of Castello. This has proved to be a bit more challenging than we expected, as many of the pieces are located over canals and we would only be able to photograph them accurately from a boat in the canal. However, we are almost done with the district and should have all of the data combined and ready to be imported to Venipedia shortly. This is an important step for future years to build off, as keystones have not been fully inventoried in many years and much of the data has been lost. Our work will allow for future teams to expand the keystone catalog and make it as comprehensive as the rest of the data sets.
All wiki pages on Venipedia dedicated to public art and vernacular culture in the city have fallen under our team's jurisdiction. We are working diligently to update these pages, flesh them out further, and ultimately bring Venipedia articles on par with Wikipedia topics in terms of information quantity and quality. This includes everything from importing live maps of each set of art to expanding on the history and relevancy of vernacular art in the city. An example of a page that we have and will continue to expand upon is the page for
relief sculptures
.
This past Thursday, we travelled with Professor Carrera and Giovanni, a member of Arzana, to Forte Marghera. This fort, located on the mainland, was once used to produce many traditional boats. It presently holds several boats in its warehouses, and artisans still come there to build these same boats occasionally, if commissioned to do so.
While there, we got to watch a man as he worked on building a boat shaped like a mandolin (pictured above, middle) that was to be sent to Los Angeles for an art exhibition on completion.
Shortly, we will be heading to the VPC to pick up a box of old pictures taken by Alberto Rizzi of the many pieces of erratic sculpture he cataloged for his book Scultura Esterna a Venezia. These will be a great way to further expand upon our Venipedia entries for each individual piece of art, as we will look to potentially incorporate timeline comparisons showing the piece as it was seen in the 1970s or 1980s as compared to more recently, when the newer pictures have been taken.
Already in the second week of the term, the Culture team is off to a great start! After a successful meeting with our sponsor at
UNESCO
, Dr. Anthony Krause, the team gained a better understanding of what exactly our sponsor was looking to see with the completion of our project. We also had our first advisor meeting yesterday with Professor Carrera and Professor Bianchi to make sure we were on the right path after the first week. 
Yesterday the team split into two groups and conducted the first day of field validation of the keystones in the Castello  district of Venice. The previous week we were able to look through the information collected by a WPI group in 1995 which helped us get a better understanding of the work completed and what needed to be done. This group was sponsored by 
Earthwatch
, a non-profict organization concerned with the Earth's future and did the very first collection of Keystone data in Venice. As we looked through their collected data we found field forms, detailed maps, and a zip disc containing pictures from their explorations. We hope to find a driver that can read the images from the zip disc we found so that we can compare our pictures to the ones taken 15 years ago. Since we are working on Veniedia pages for each individual piece of art, we could also use the pictures to finally develop pages for each keystone in Venice.  The detailed maps and field forms were extremely useful when we were developing a method for cataloging/validating the art in Castello. 
Since each district of Venice is organized by number we decided the best way to tackle the district was to split up. Nick and I began our field work at the very first address number in Cannaregio and worked up while the other team started at the very last num
ber and worked down. We used a 
field form
based on what was used 15 years ago to catalog each keystone we discovered. Nick and I were able to cover a lot of ground in one day, ending in the 2000's. We were also able to find 3 Keystones that the previous group might have missed. The second team had great success as well and cataloged tons of Keystones. We will continue to conduct field work and hopefully finish with this district by Thursday at the latest.
    As we finish each day were are entering our results into an Excel Spreadsheet and uploading images to a folder. Eventually all of our findings will be transferred to Venipedia, creating the Keystone pages. We will not be conducting field work on the whole island, just this one district but, it is our goal to start the Keystone pages and leave recommendations or suggestions for future groups that would like to tackle the rest of the districts of Venice. 
We hope to find a driver that can read the images from the zip disc we found so that we can compare our pictures to the ones taken 15 years ago. Since we are working on Veniedia pages for each individual piece of art, we could also use the pictures to finally develop pages for each Keystone in Venice. 
    After finishing the Keystone Validation we plan to visit some of the more damaged pieces to check on their condition and get an update for Venipedia. We are still working out which pieces should be considered and what we will have time for. We are also working on developing a potential mobile application for recognizing public art in Venice alongside the continuous Venipedia work that is taking place. So far the Culture team has their hands full and is definitely keeping busy here in Venice! 
After a little over a week of traveling, today marks the first day of the start of our project in Venice.  Yesterday all of the project teams met at the Venice Project Center to get reacquainted with our advisers and to coordinate our meetings with our sponsors.  Our project team will be meeting with our
UNESCO
sponsor Dr. Anthony Krause (and his associates) tomorrow at 3 pm.  This meeting will offer our group the chance to formally introduce ourselves and to detail exactly what
we hope to accomplish during our 7 weeks here.  The meeting will also give us the opportunity to readjust our
proposal
should our project goals not entirely coincide with our sponsor's vision for the project.  We hope to spend the rest of this week gathering all the relevant information we can from the Venice Project Center as well as making the final adjustments to our
Venipedia templates
so we can begin to upload information as soon as possible.  With our arrival in Venice the true scope and importance of our project is finally starting to become a reality.
It has been quite a long seven weeks for me at WPI. Working on IQP while having two other classes pushed me to my limit. But now that the term is over and the final deadline approaching fast, it's time to look back on what we've accomplished. Specifically, the accomplishments that the team has made on Venipedia.
Before this year, many of the pages that referred to the public art of Venice (such as
wellheads
 and
traditional boats
) were disorganized. Some pages were split up to form two different pages, while some were simply sloppy or missing. It was quite the mess.
However, we have taken it upon ourselves to update and modify a significant number of these pages, mostly the pages we were going to be working with when we arrived in Venice. In addition, many of the pages higher in the
material culture heirarchy
, such as
erratic sculpture
 and
public art
 have been updated as well. By giving these pages a fresh new look, we are laying the groundwork for our work in Venice. 
Speaking of Venice, we have finally figured out what catalog we will be investigating: the
keystone
 catalog. We will be cataloging all of the keystones in one sestiere of Venice to determine the feasibility of cataloging all of them. Courtney has even developed a keystone
field form
 that will aid us in our task.
Finally, it's time for us to leave! It is the end of our first half of work, which we did here in the United States. But in just one short week, we will be in Venice and we will begin the next leg of our journey!
 -Nick
The last week ended strong for team culture with a very successful final presentation. As we wrapped things up last week we finally started to develop a schedule for when we get to Venice. The group has decided that we while in Venice we will conduct field validation of the keystones located in one district. Professor Carrera emphasized how large of a project this would be for us to take on, but we didn't want to drop the project completely. We chose to take on a portion of this project so we would have ample amount of time to finish the other portions of our project. It was his idea to choose one district of Venice to catalog that way we could establish an efficient and systematic way to catalog the keystones and get the information accurately into a database and on Venipedia. Once an efficient manner is established, we could then leave instructions and provide our methodology for a group in the future that wishes to catalog the whole of Venice and its Lagoon.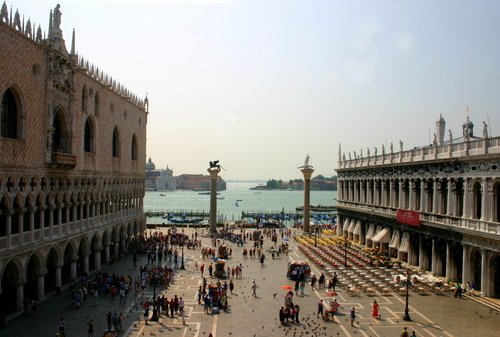 We also plan to contact an Arzana representative and the intern from Brown University that was working with 3D imaging through CAD of the boats. We hope to verify what information has already been collected on the traditional boats and see what information we will be able to use for our catalog. Once we figure out what is missing, we can go visit these boats and obtain the information (possibly pictures of the vessels and a little story about each of the boats from either its owner or maker.)
            Aside from the fieldwork we will be conducting, we also plan to clean up each individual public art page on Venipedia as well as the page for the specific type of art. This will take lots of thought and organization alongside patience. We have already developed our templating skills but now we just need to sift through all the available data and organize!
            The team definitely has their hands full for the 7 weeks in Venice! I can't believe I will be on my way to Venice tomorrow!! I am so anxious to get started and enjoy my time abroad!
Ciao 
Courtney
This has been a particularly busy week for the team as we begin to see our project come together.  The week got off to a great start with our dress rehearsal final
presentations
taking place in ID 2050 on Monday night.  Overall our presentation went well and we received some great feedback from Professors Tuler and Bianchi.  With our final presentation rapidly approaching this Thursday we are continuing to rehearse as a group.  In addition to our final presentation, we have been putting the finishing touches on our wiki pages and project
proposal
.  We were particularly productive as a team this week
on the
venipedia
site.  In addition to our individual project and cultural wiki pages, we have created nav boxes for each type of erratic and non-erratic art type as well as most of the individual artifact templates.  Included in each template is an info box with the details and measurements of each piece as well as a google map with an indicator at the location of each piece.  Hopefully we can being importing data from the
Bluehost
server before we leave.  With the bulk of our project nearing completion, all that remains is tying up some of the loose ends.  In the next few days our group should have the bulk of our
deliverables
,
infographics
, and ID 2050
assignments
completed.  With just over two weeks until our project begins in Venice, the reality of leaving the country is finally starting to sink in.  We will continue to update our blog through all our travel adventures! 
We've been dedicating a lot of our time to discussing the impact of public art on Venice. However, it is useful to actually think about what public art is. Many terms have been thrown around, such as vernacular art, public art, and erratic sculpture. But it can be difficult to keep track of them.
Material culture is the highest part of the hierarchy. It refers to a piece of art that represents how a culture has changed through a period of many years. There are two subcategories of material culture. The first is public art, which is a piece of material culture that can be viewed from a public area. Non-public art includes pieces of material culture that cannot be seen from a public place. We will not be studying non-public art for our project, so it has been colored blue.
    Under public art is monumental and vernacular art. Monumental art consists of larger pieces of art. The Doge's palace is an example of a piece of monumental art. Vernacular art are small, man made pieces that are often overlooked by tourists and Venetians alike. For the purpose of our project, we split vernacular art into three subcategories: erratic sculpture, non-erratic sculpture, and traditional boats. Erratic refers to the ability of someone to remove and repair the piece. If someone can take the piece and restore it without significant damage to whatever the piece was attached to, the piece is erratic. If it can't be, it's not erratic. Finally, traditional boats are the handcrafted boats that are used to move around Venice and the surrounding islands. 
    It's important to understand the different pieces of public art, especially for those of us who will be dealing with the public art directly. In order to properly catalog the pieces of material culture, understanding how the art is organized is an important first step.
For the past week and a half our team has been busy learning the intricacies of the
Venipedia
site.  Because a large part of our project includes transferring the catalogued data from the
Bluehost
server into Venipedia, we have spent a great deal of time learning the exporting and importing methods for each site.  In particular, I have spent the last few days working to restructure the "hierarchy" of Venipedia pages so that there is a logical flow between similar topics. 
Specifically I have been working on the
public art
section which now links to
monumental
and
vernacular art
, which in turn links to
erratic
and
non-erratic sculpture
as
well as
traditional boats
.  As the progression of links continues, the data gets more specific until eventually you end up on a wiki page for a specific piece of vernacular culture.  In order to make these specific pages, our team has been working on templates for each type of art.  For example, once a
template for wellheads
is complete, we will be able to import all the data from Bluehost into Venipedia automatically.  This automated importation will create a wiki page for each individual wellhead with the click of a button.  Our goal as a team is to begin this process before we leave for Venice.  We should have the templates completed within the next few days and the data transfer will begin soon!  We also owe a special thanks to the Venipedia task force (Ryan Muller, Elliott Calamari, and Neil Pomerleau) who have been particularly helpful with the coding on the Venipedia site, thanks guys!