1971
For a number of years, Westland manufactured anglicized Sikorsky-designed helicopters under license, usually with substantial modifications, but it was not until after the amalgamation of the British helicopter industry in 1959-61 that any original projects reached the hardware stage. In 1964, the Yeovil division began designing a family of military helicopters using the WG prefix, and the 13th model was based on the need to replace the Scout and Wasp used by the British forces, and to offer an alternative to the American Bell Huey, with more advanced technology.
Many components were clearly inspired by the success of the Scout and Wasp but the rotor, for example, was completely new, being of the semi-rigid type with blades of constant chord and cambered section. With these characteristics, it was possible to achieve very high tip speeds, as well as enhancing lift and reducing drag. The construction of the rotor blades was also technologically advanced, in that they had a honeycomb core and made extensive use of modern materials. The result was an aircraft which was up-to-date in terms of design and easier to maintain than comparable American aircraft. Thus it was Westland's strongest proposal for an agreement signed with Sud-Aviation in 1968.
The first Westland WG.13 was ready for flight testing on 21 March 1971 — rather later than foreseen. It was followed by four more aircraft in two basic configurations: the AH Mk.1 for the Army and the HAS Mk.2 for the Navy.
The Lynx demonstrated its capabilities by the records achieved in the summer of 1972. Piloted by Westland's chief test pilot Roy Moxam, it broke the world record over 15/25km by flying at 321.74km/h, also setting a new 100km closed circuit record shortly afterwards by flying at 318.504km/h.
The British Army ordered over 100 Lynx AH.1 for a variety of roles, from tactical transport to armed escort, antitank warfare (with eight TOW missiles), reconnaissance and casualty evacuation. A Marconi Elliott AFCS system is fitted to the Army's version of the Lynx, which gives automatic stabilization on three axes and can also be used as an autopilot during extended flights. The naval version, unlike the ground-based version with skid landing gear, has a non-retractable quadricycle landing gear with oleopneumatic shock absorbers. The initial HAS Mk.2 version was ordered by both the Royal Navy and the French Aeronavale, although they differed in their avionics, ASW equipment, and their armament (the former has four Sea Skua anti-ship missiles and the latter AS.12 missiles). Uprating and other changes subsequently resulted in two distinct new variants, the HAS Mk.3 for the Royal Navy and the Mk.4 for the Aeronavale. Similar uprating for the British Army version has resulted in the AH Mk.5.
The Lynx has also met with considerable export success. After careful evaluation, it was chosen by the German Navy (12 ordered in 1981) for use on their new frigates, and six SAR and 18 ASW models have been ordered by the Royal Netherlands Navy. Other operators of the Lynx include Argentina, Brazil, Denmark, Norway, Nigeria and Qatar.
G.Apostolo "The Illustrated Encyclopedia of Helicopters", 1984
One of the three helicopters included in the Aerospatiale/Westland co-production agreement of 1968, the Westland Lynx was designed initially for naval and civil roles, but early appreciation of its suitability for a wide range of military operations has led to an expanded development programme under the titles Army and Navy Lynx. Production was shared 70% by Westland and 30% by Aerospatiale. The first of six prototypes was flown on 21 March 1971, being followed by seven pre-production prototypes to speed development. Service trials began first in 1976 with No. 700L Naval Air Squadron at RNAS Yeovilton, Somerset, this being a joint Royal Navy and Royal Netherlands navy operational evaluation unit; similarly, an Army Aviation trials unit was established at Middle Wallop, Hampshire, in mid-1977. Deliveries of production aircraft to operational units began following completion of the latter trials in December 1977, the Lynx entering service first with Army Aviation squadrons in West Germany. The first Royal Navy unit (No. 702 Sqn) became operational in December 1977. Westland's current production aircraft are improved versions of the Army and Navy Lynx known as the Battlefield Lynx and Super Lynx, respectively, with all versions detailed more closely below. By 1993, 380 Army and Navy versions had been completed for customers in 17 nations.
VARIANTS
Lynx AH.Mk 1: general-purpose/ utility version for the British army with skid landing gear, able to operate in roles that include anti-tank, strike, armed escort, casualty evacuation, command post, logistic support, reconnaissance, tactical transport and SAR; 113 built;
AH.Mk 1GT is interim version before AH.Mk 7 conversion
Lynx HAS.Mk 2: Royal Navy general-purpose version with non-retractable tricycle landing gear and foldable tail rotor pylon, suitable for roles that include ASV, search and strike, ASW classification and strike communications, fire support, liaison, reconnaissance, SAR, troop transport and vertical replenishment
Lynx Mk 2 (FN): version for French navy, generally similar to HAS.Mk 2
Lynx HAS.Mk 3: second antisubmarine version for Royal Navy with uprated powerplant and transmission; equipped with two 835kW Rolls-Royce Gem 41-1 turboshaft engines, and GEC-Marconi Seaspray radar in modified nose; 23 delivered between March 1982 to April 1985; 53 surviving HAS.Mk 2s converted to HAS Mk 3 standard by 1989; further improved version designated HAS.Mk 3S
Lynx HAS.Mk 3 ICE: two aircraft converted for Arctic use by Royal Navy
Lynx HAS.Mk 3 GM: unofficial designation for 19 Gulf Modification aircraft originally delivered for use by Armada patrol, involving secure comms, tactical navigation and ESM fit
Lynx HAS.Mk ACTS: phase two of current upgrade programme featuring addition of RAMS 4000 central tactical system
Lynx HAS.Mk 4 (FN): version for French navy with powerplant of Lynx HAS.Mk 3
Lynx AH.Mk 5: version similar to Lynx AH.Mk 1, three for MoD (PE) with uprated Gem engines
Lynx AH.Mk 7: currently in service; improved British Army version featuring box-like exhaust shrouds, composite main rotor and reversed tail rotors; all surviving AH. Mk 1s converted to AH.Mk 7 standard by RN at Fleetlands from March 1988
Lynx HAS.Mk 8: latest version for Royal Navy featuring 15 new-build and 45 converted airframes featuring increased weights, internal MAD, improved rotors, avionics and ESM systems; Seaspray radar relocated to chin position and GEC-Marconi Sea Owl thermal imager fitted to nose instead; initial deliveries scheduled for early 1994; export version designated
Super Lynx Lynx AH.Mk 9: latest battlefield version for British army; fitted with tricycle undercarriage which precludes carriage of TOW missiles; 16 new aircraft on order plus eight AH.Mk 7 conversions; export version designated Battlefield Lynx
Lynx Mk 21: version for Brazilian navy similar to Lynx HAS.Mk 2
Lynx Mk 22: unbuilt version for Egyptian navy
Lynx Mk 23: version for Argentine navy similar to Lynx HAS.Mk 2
Lynx Mk 24: unbuilt version for Iraqi army
Lynx Mk 25: version for Royal Netherlands navy, which designated them UH-14A; similar to Lynx HAS.Mk 2
Lynx Mk 26: unbuilt, unarmed version for Iraqi army
Lynx Mk 27: version for Royal Netherlands navy which designated them SH-14B; uprated Gem engines and equipped for ASW role with sonar; nine delivered
Lynx Mk 28: version for State of Qatar police; generally as Lynx AH.Mk 1 but with uprated Gem 47-1 turboshafts and special equipment, including flotation gear
Lynx Mk 80: version for Royal Danish navy, similar to Lynx HAS.Mk 2; eight built
Lynx Mk 81: version for Royal Netherlands navy which designated them SH-14C; uprated Gem engines and magnetic anomaly detection (MAD) gear, some converted to SH-14B standard through deletion of MAD and addition of sonar; eight built
SH-14D: conversion of five Dutch navy UH-14As and eight SH-14Cs with Alcatel dipping sonar, UHF radios, RWR, FLIR, GPS, radar altimeter, composite blades and Gem Mk 42 engines
Lynx Mk 82: unbuilt version for Egyptian army
Lynx Mk 83: unbuilt version for Saudi army
Lynx Mk 84: unbuilt version for Qatari army
Lynx Mk 85: unbuilt version for UAE army
Lynx Mk 86: version for Royal Norwegian air force coast guard; similar to Lynx HAS.Mk 2, but with uprated Gem engines and non-folding tail rotor pylon; six built
Lynx Mk 87: embargoed version for Argentine navy, similar to Lynx Mk 23 but with uprated engines
Lynx Mk 88: version for the Federal German navy similar to Lynx Mk 86; equipped with sonar; 19 built
Lynx Mk 89: version for Nigerian navy; equipped for ASW/SAR roles; three built
Lynx Mk 90: single follow-on aircraft for Danish navy assembled in Denmark; delivered in 1988
Super Lynx Mk 95: five aircraft for Portuguese navy; equivalent to HAS. Mk 8; deliveries commenced in 1993
Super Lynx Mk 99: 12 aircraft for South Korean navy; delivered between 1989 and 1991; equivalent to HAS.Mk8
Battlefield Lynx 800: AH Mk 9 re-engined with LHTEC T800 turboshafts; development project terminated in 1992
D.Donald "The Complete Encyclopedia of World Aircraft", 1997
Developed within Anglo-French helicopter agreement confirmed 2 April 1968; Westland given design leadership; first flight of first of 13 prototypes (XW835) 21 March 1971; first flight of fourth prototype (XW838) 9 March 1972, featuring production type monobloc rotor head; first flights of British Army Lynx prototype (XX153) 12 April 1972, French Navy prototype (XX904) 6 July 1973, production Lynx (RN HAS. Mk 2 XZ229) 20 February 1976; first Royal Navy operational unit (No. 702 Squadron) formed on completion of intensive flight trials December 1977; AH. Mk 5 first flew (ZE375) 23 February 1985. Production shared 70% Westland, 30% Aerospatiale.
Battlefield Lynx mockup displayed at 1988 Farnborough Air Show (converted demonstrator G-LYNX), featuring wheeled landing gear, exhaust diffusers and provision for anti-helicopter missiles each side of fuselage; first flight of wheeled prototype (converted trials AH. Mk 7 XZ170) 29 November 1989; first flight of South Korean Super Lynx 16 November 1989 (also first Lynx with Sea Spray Mk 3).
VERSIONS
Lynx AH. Mk 1: British Army general purpose and utility version; 113 built and most converted to Mk 7.
Lynx HAS. Mk 2: Version for Royal Navy, for advanced shipborne anti-submarine and other duties. Gem 2 engines. Ferranti Sea Spray search and tracking radar in modified nose. Total of 60 delivered, plus 26 to French Navy, designated HAS. Mk 2(FN). First production aircraft (XZ227) flown on 20 February 1976. By 1989, all 53 active Royal Navy first-series Lynx had been modified to Mk 3 or later standards.
Lynx HAS. Mk 3: Second Royal Navy version for advanced shipborne anti-submarine and other duties; similar to Mk 2, with GEC-Marconi Sea Spray search and tracking radar in modified nose; can carry Sea Skua. Mk 2's Gem 2 engines replaced by two 835kW Gem 41-1 engines; 23 delivered; seven more in HAS. Mk 3S configuration; first flight, ZF557, 12 October 1987. This version has two GEC-Marconi AD3400 UHF radios with secure speech facility; additionally, ZD560 built in approximately Mk 7 configuration, delivered to Empire Test Pilots' School. Further 53 obtained through modification of all existing HAS. Mk 2s. Lynx HAS. Mk 3ICE is Mk 3 lacking some operational equipment for general duties aboard Antarctic survey vessel, HMS Endurance; three converted, of which two to Mk 3SICE.
Those used by Armilla Patrol in Arabian Gulf modified to HAS. Mk 3GM (Gulf Mod), with better cooling, or HAS. Mk 3S/GM, also with Mk 3S modifications (to which standard all 3GMs converted). Augmenting new-build Mk 3Ss, 36 modified by Royal Navy Aircraft Yard at Fleetlands from April 1989; Mk 3S is Phase 1 of Mk 8 conversion programme, involving GEC-Marconi AD 3400 secure speech radios (blade aerial beneath mid-point of tailboom) and upgraded ESM; programme continues, including Mk 3S/GM. Phase 2 is Lynx HAS. Mk 3CTS, adding RAMS 4000 central tactical system; prototype (XZ236 ex-Mk 3) flew 25 January 1989; further six for Royal Navy trials (one ex-Mk 3; five ex-Mk 3S); deliveries to Operational Flight Trials Unit, Portland, from April 1989. CTS service clearance granted August 1991; Mk 3CTS has flotation bag each side of nose.
Lynx Mk 4: Second batch of 14 aircraft ordered for French Navy in May 1980 with Gem 41-1 engines and uprated transmission to permit an increase in AUW to 4,763kg. All supplied 'green' for equipment installation by Aerospatiale and subsidiaries.
Lynx AH. Mk 5: Similar to AH. Mk 1. Two trials aircraft ZD285 and ZD559. Nine AH. Mk 5s ordered for Army Air Corps. Initial example (ZE375) flew on 23 February 1985 and was used for engine trials. Remainder transferred to AH. Mk 7 contract, although ZE376 flew initially as Mk 5.
Lynx AH. Mk 7: Uprated British Army version, with improved systems, reversed-direction tail rotor with improved composite blades to reduce noise and enhance extended period hover at high weights; 13 ordered, eight from Mk 5 contract (two cancelled); first flight (ZE376) 7 November 1985; seven converted to Mk 9. Royal Navy workshops at Fleetlands converted Mk 1s to Mk 7s; first (XZ641) redelivered 30 March 1988; box-type exhaust diffusers added from early 1989; last conversion mid-1994. Interim version was Lynx AH. Mk 1GT with uprated engines and rotors, but lacking Mk 7's improved electronic systems; first conversion (XZ195) 1991. GEC-Marconi AWARE-3 radar warning receiver selected 1989 for retrofit, designated ARI23491 Rewarder; Mk 1 XZ668 to Westland for trial installation 22 November 1991. (GEC-Marconi Sky Guardian Mk 13 installed in some Lynx AH. Mk 7s for Gulf War, 1990-91; later uprated to Mk 15.) BERP (extended tip chord) blades retrofitted to Mk 7 from 1993.
Subject to results of study contract awarded to GKN Westland on 1 December 1998, Army Air Corps Mks 7 and 9 will be modified to a common equipment standard (wheeled landing gear, MIL-STD-1553B databus; avionics management system; GPS/INS/Doppler navigation; improved communications; civil navigation equipment; improved defensive aids); Mk 7 will replace Gazelles and be designated LUH (Light Utility Helicopter); Mk 9 role to be unchanged.
Lynx Mk 8 HMA (formerly known as HAS. Mk 8): Entered service with Royal Navy 1995. Equivalent to export Super Lynx; passive identification system; 5,125kg maximum T-O weight; improved (reversed-direction) tail rotor control; BERP composite main rotor blades; Racal RAMS 4000 central tactical system (CTS eases crew's workload by centrally processing sensor data and presents mission information on multifunction CRT display; 15 systems ordered 1987, 106 September 1989); original Sea Spray Mk 1 radar repositioned in new chin radome; GEC-Marconi Sea Owl thermal imager (x5 or x30 magnifying system on gimballed mount, with elevation +20 to -30° and azimuth +120 to -120°; ordered October 1989) in former radar position; MIR-2 ESM updated; three Mk 3s used in development programme as tactical system (XZ236), dummy Sea Owl/chin radome (ZD267) and avionics (ZD266) testbeds.
Definitive Mk 8 (Phase 3) conversions begun 1992 with addition of Sea Owl, further radar and navigation upgrades, (including RACAL RNS252 'Super TANS'), composites BERP main rotor blades and reversed-direction tail rotor. Conversion programme covers 44 aircraft in two phases. All conversions due to be completed by the year 2003.
Lynx AH. Mk 9: UK Army Air Corps equivalent of export Battlefield Lynx; tricycle wheel landing gear; maximum T-O weight 5,125kg; advanced technology composites main rotor blades; exhaust diffusers; no TOW capability; first flight of prototype (converted company demonstrator XZ170) 29 November 1989; 16 new aircraft (beginning ZG884, flown 20 July 1990) ordered for delivery from 1991, plus eight Mk 7 conversions (contract awarded November 1991); some outfitted as advanced command posts, remainder for tactical transport role. Deliveries from 22 May 1991.
Battlefield Lynx: Upgraded export army Lynx; approximately equivalent to Lynx AH. Mk 9. Demonstrator G-LYNX fitted with two 1,007kW LHTEC T800 turboshafts as Battlefield Lynx 800 private venture (LHTEC funding power plants and gearboxes, Westland providing airframe for full flight demonstration programme); first flight 25 September 1991; programme terminated early 1992 after 17 hours.
Super Lynx: Export model approximately equivalent to Mk 8 HMA. Lynx Mk 21A: Five remaining Brazilian Navy Lynx Mk 21 upgraded to Super Lynx Mk 21A standard. Contract placed in February 1994 includes nine new-build aircraft.
Other versions and operators where orders completed: Royal Netherlands Navy upgraded five UH-14As and eight SH-14Cs to SH-14D standard, with Alcatel dipping sonar, UHF radios, RWR, FLIR Systems Inc 2000HP FLIR, Trimble Type 2200 GPS, new radar altimeter, composites rotor blades and Mk 42 Gem power plants. Nine SH-14Bs, already with sonar, raised to SH-14D standards, but in interim SH-14Cs upgraded to SH-14B through deletion of MAD and addition of sonar. UH-14As are first full SH-14D conversions, from 1990; programme designated STAMOL (Standaardisatie en Modernisering Lynx); standard fleet comprising 16 with sonar and six with provisions for sonar installation. Completed early 1993.
Denmark upgrading its eight Mk 80A and Mk 90A Lynx to Super Lynx standard; includes building of replacement airframes for integration with existing fleet's engines, transmission, rotor system, flying controls, hydraulic systems, avionics and electrical systems, upgrade and modifications of main rotor blades, tail rotor and fuel systems. Completion due in 2004. Will be known as Mk 90B when upgraded.
GBP80 million contract awarded in June 1998 for upgrading 17 German Navy Mk.88 Sea Lynx to Super Lynx standard, following on from a GBP100 million order for seven new Super Lynx Series 100s. The modification includes fitting the Marconi Sea Spray 3000 radar, Racal Doppler 91, RNS 252 and Rockwell Collins GPS. It will be fitted to accommodate the FLIR system fitted to the new aircraft and will also be capable of deploying the Sea Skua air-to-surface missile. GKN Westland will carry out the first trial installation, with Eurocopter Deutschland subcontracted to modify the remaining 16 aircraft. Trial installation is scheduled for mid-2001.
CURRENT VERSIONS
Super Lynx Series 100: Upgraded export naval Lynx introduced in September 1996, powered by Rolls-Royce Gem 42-1 turboshaft engines, approximately equivalent to Lynx. Mk 8 HMA; operated by South Korean, Portuguese and Brazilian navies and applied to new Mk 88As sold to Germany.
Super Lynx Series 200: More powerful alternative option with 1,007kW LHTEC CTS800 engine with dual-channel Full Authority Digital Electronic Control (FADEC), LCD flat panel electronic power system displays, but otherwise conventional cockpit of Series 100.
Super Lynx Series 300: Also powered by the LHTEC CTS800, but with full 'glass' cockpit with six LCD colour flat panel displays, night vision goggle-compatible, and digital core avionics based around dual-redundant MIL-STD-1553B and ARINC 429 databuses; includes new navigation system, attitude and heading reference system and communications suite. Mission sensors and systems can be integrated into the avionics system and controlled via control and display units. South Africa, which announced intention to purchase on 18 November 1998, has deferred its four aircraft. Launch customer, the Royal Malaysian Navy will take delivery of the first of its six aircraft in 2003. The Royal Thai Navy has approved funding for two.
     Demonstrator made its first flight with CTS800-4N turboshaft engines at Yeovil on 12 June 2001.
Lynx ACH: Advanced Compound Helicopter. Technology demonstrator project, publicly announced 22 May 1998 and due to begin in 1999, partly funded by UK MoD. Target is 50% speed increase by means of wings attached at cabin roof level and variable area exhaust nozzles; additional thrust derived from RTM322 turboshafts in place of Gems (uprated gearbox taken from W30-200); BERP rotor blades; flaps on wing trailing-edges, with pitching moment neutralised by all-moving tailplane; and trimming rudder to reduce tail rotor loads.
Performance will include maximum level speed of 463km/h; ceiling of 6,100m; 20% additional payload/range; 50% more propulsive efficiency; and between 25 and 50% improvement in lift/drag ratio.
Following description refers to military general purpose and naval versions with Gem 2 engines, except where indicated:
DESIGN FEATURES: Compact design suited to hunter-killer ASW and missile-armed anti-ship naval roles from frigates or larger ships (superseding ship-guided helicopters), armed/unarmed land roles with cabin large enough for squad, or other tasks; manually folding tail pylon on naval versions; single four-blade semi-rigid main rotor (foldable), each blade attached to main rotor hub by titanium root plates and flexible arm; rotor drives taken from front of engines into main gearbox mounted above cabin ahead of engines; in flight, accessory gears (at front of main gearbox) driven by one of two through shafts from first stage reduction gears; four-blade tail rotor, drive taken from main ring gear; single large window in each main cabin sliding door; provision for internally mounted armament, and for exterior universal flange mounting each side for other weapons/stores.
Super Lynx has increased take-off weight; all-weather day/night capability; extended payload range; swept-tip BERP composites main rotor blades offering improved speed and reduced vibration; and reversed direction tail rotor for improved control.
FLYING CONTROLS: Rotor head controls actuated by three identical tandem servojacks and powered by two independent hydraulic systems; control system incorporates simple stability augmentation system; each engine embodies independent control system providing full-authority rotor speed governing, pilot control being limited to selection of desired rotor speed range; in event of one engine failure, system restores power up to single-engine maximum contingency rating; main rotor can provide negative thrust to increase stability on deck after touchdown on naval versions; hydraulically operated rotor brake mounted on main gearbox; sweptback fin/tail rotor pylon, with starboard half-tailplane.
STRUCTURE: Conventional semi-monocoque pod and boom, mainly light alloy; glass fibre access panels, doors, fairings, pylon leading/trailing-edges, and bullet fairing over tail rotor gearbox; composites main rotor blades; main rotor hub and inboard flexible arm portions built as complete unit, as titanium monobloc forging; tail rotor blades have light-alloy spar, stainless steel leading-edge sheath and rear section as for main blades.
LANDING GEAR: (General purpose military version): Non-retractable tubular skid type. Provision for a pair of adjustable ground handling wheels on each skid. Flotation gear optional. Battlefield Lynx and AH.Mk 9 equivalent have non-retractable tricycle gear with twin nosewheels.
(Naval versions): Non-retractable oleo-pneumatic tricycle type. Single-wheel main units, carried on sponsons, fixed at 27° toe-out for deck landing; can be manually turned into line and locked fore and aft for movement of aircraft into and out of ship's hangar. Twin-wheel nose unit steered hydraulically through 90° by the pilot to facilitate independent take-off into wind. Sprag brakes (wheel locks) fitted to each wheel prevent rotation on landing or inadvertent deck roll. These locks disengage hydraulically and re-engage automatically in event of hydraulic failure. Maximum vertical descent 2.29m/s; with lateral drift 0.91m/s for deck landing. Flotation gear, and hydraulically actuated harpoon deck lock securing system, optional.
POWER PLANT: Currently available options include two Rolls-Royce Gem 42-1 turboshafts, each rated at 835kW, or two LHTEC CTS800-4N, each rated at 995kW. Transmission rating 1,372kW. Exhaust diffusers for IR suppression optional on Battlefield Lynx.
Two Rolls-Royce Gem 2 turboshafts, each with maximum contingency rating of 671kW in original Lynx AH. 1, HAS. 2 and early export variants. Later versions have Gem 41-1, 41-2, or 42-1 engines, all with maximum contingency rating of 835kW. Transmission rating 1,372kW. Engines of British and French Lynx in service converted to Mk 42 standard during regular overhauls from 1987 onwards. Danish, Netherlands and Norwegian Lynx similarly retrofitted. Fuel in five internal tanks; usable capacity 957 litres when gravity-refuelled; 985 litres when pressure-refuelled. For ferrying, two tanks each of 441 litres in cabin, replacing bench tank. Maximum usable fuel 1,867 litres. Engine oil tank capacity 6.8 litres. Main rotor gearbox oil capacity 28 litres.
ACCOMMODATION: Pilot and co-pilot or observer on side-by- side seats. Dual controls optional. Individual forward-hinged cockpit door and large rearward-sliding cabin door on each side; cockpit doors jettisonable; windows of cabin doors also jettisonable. Cockpit accessible from cabin area. Maximum high-density layout (military version) for one pilot and 10 armed troops or paratroops, on lightweight bench seats in soundproofed cabin. Alternative VIP layouts for four to seven passengers, with additional cabin soundproofing. Seats can be removed quickly to permit carriage of up to 907kg of freight internally. Tiedown rings provided. In casualty evacuation role, with a crew of two, Lynx can accommodate up to six Alphin stretchers and a medical attendant. Both basic versions have secondary capability for search and rescue (up to nine survivors) and other roles.
SYSTEMS: Two independent hydraulic systems, pressure 141 bars. Third hydraulic system provided in naval version when sonar equipment, MAD or hydraulic winch system installed. No pneumatic system. 28V DC electrical power supplied by two 6kW engine-driven starter/generators and an alternator. External power sockets. 24V 23Ah (optionally 40Ah) Ni/Cd battery fitted for essential services and emergency engine starting. 200V three-phase AC power available at 400Hz from two 15kVA transmission-driven alternators. Cabin heating and ventilation system. Optional supplementary cockpit heating system. Electric anti-icing and demisting of windscreen, and electrically operated windscreen wipers, standard; windscreen washing system.
AVIONICS: (General): Avionics common to all roles (general purpose and naval versions).
Comms: Collins VOR/ILS; DME; Collins AN/ARN-118 Tacan; I-band transponder (naval version only); GEC-Plessey PTR 446, Collins APX-72, Siemens STR 700/375 or Italtel APX-77 IFF.
Flight: Marconi duplex three-axis automatic stabilisation equipment; BAe GM9 Gyrosyn compass system; Decca Tactical Air Navigation System (TANS); Decca 71 Doppler, E2C standby compass. Marconi Mk 34 AFCS. Additional units fitted in naval version, when sonar is installed, to provide automatic transition to hover and automatic Doppler hold in hover.
(Army): Flight: Decca Doppler 91 and RSN252 navigation; Honeywell/Smiths AN/APN-198 radar altimeter; Rockwell Collins 206A ADF and VIR 31A VOR/ILS on latest versions.
Mission: British Army Lynx equipped with TOW missiles have roof-mounted Hughes sight manufactured under licence by British Aerospace. Roof sight upgraded with night vision capability in far infra-red waveband; first test firing of TOW with added Marconi thermal imager took place in October 1988. Optional equipment, according to role, can include lightweight sighting system with alternative target magnification, vertical and/or oblique cameras, flares for night operation, low-light level TV, infra-red linescan, searchlight, and specialised communications equipment. Some have infra-red formation flying lights and provision for crew's NVGs. For surveillance, some AAC Lynx carry Chancellor Helitele in external (port) ball housing, complete with datalink.
Self-defence: Sanders AN/ALQ-144 infra-red jammer installed beneath tailboom of some British Army Lynx from 1987; later augmented by exhaust diffusers. Requirement for RWR satisfied by 1989 selection of Marconi AWARE-3 (ARI23491) system; Marconi Sky Guardian Mk 13 (later Mk 15) on some aircraft from 1990.
(Navy): Comms: Rotal Navy helicopters have two GEC-Marconi AD 3400 VHF/UHF transceivers, Dowty D403M standby UHF radio, Collins 718U-5 HF transceiver, Plessey PTR446 D-band transponder and Pilkington ARI 5983 I-band transponder.
Radar: Marconi ARI5979 Sea Spray Mk 1 lightweight search and tracking radar, for detecting small surface targets in low-visibility/high-sea conditions in original versions. Super Lynx has Sea Spray Mk 3000 or AlliedSignal RDR 1500 360° scan radar in chin fairing. UK Mk 8 upgraded with Sea Spray Mk 3000 below fuselage.
Flight: GPS on Royal Navy and Netherlands Lynx from 1997.
Mission: Optional AlliedSignal AN/AQS-18 or Thomson Sintra HS-312 sonars. Detection of submarines by dipping sonars or magnetic anomaly detector. Dipping sonars operated by hydraulically powered winch and cable hover mode facilities within the AFCS. Racal MIR-2 Orange Crop passive radar detection system in Royal Navy Lynx; similar Racal Kestrel retrofitted to Danish Mk 90. Matra AF 530 or APX-334 stabilised sight in French naval Lynx. Optional GEC Sandpiper FLIR on Royal Navy Lynx; FLIR Systems 2000HP specified for Netherlands SH-14D upgrade; FLIR Systems Safire optional for Danish Lynx. Vinten Vipa 1 reconnaissance pod, or Agiflite reconnaissance camera system.
Self-defence: Tracor M-130 chaff/flare dispensers and Ericsson Radar Electronics AN/ALQ-167(V) D- to J-band anti-ship missile jamming pods installed on Royal Navy Lynx patrolling Arabian Gulf, 1987. Two Loral Challenger IR jammers above cockpit of Royal Navy Lynx during 1990-91 Gulf War. RWR in Netherlands SH-14Ds from 1996.
EQUIPMENT: All versions equipped as standard with navigation, cabin and cockpit lights; adjustable landing light under nose; and anti-collision beacon. For search and rescue, with three crew, both versions can have a waterproof floor and a 272kg capacity clip-on hydraulic hoist on starboard side of cabin. Cable length 30m. Electric hoist on CTS800-powered aircraft.
ARMAMENT: For armed escort, anti-tank or air-to-surface strike missions, army version can be equipped with two 20mm cannon mounted externally so as to permit carriage also of anti-tank missiles or pintle-mounted 7.62mm machine gun inside cabin. External pylon can be fitted on each side of cabin for variety of stores, including two Minigun or other self-contained gun pods; two rocket pods; or up to eight HOT, Hellfire, TOW, or similar air-to-surface missiles. Additional six or eight missiles carried in cabin. For ASW role, armament includes two Mk 44, Mk 46, A244S or Sting Ray homing torpedoes, one each on an external pylon on each side of fuselage, and six marine markers; or two Mk 11 depth charges. Alternatively, up to four Sea Skua semi-active homing missiles; on French Navy Lynx, four AS.12 or similar wire-guided missiles. Self-protection FN HMP 12.7mm machine gun pod optional on Royal Navy Lynx.
Super Lynx as standard naval Lynx, including four Sea Skua or two Penguin, or Marte Mk.2/s anti-ship missiles.
Jane's Helicopter Markets and Systems
Technical data for Westland "Lynx" HAS Mk.2
Engine: 2 x Rolls-Royce Gem 2 turboshaft, rated at 671kW, main rotor diameter: 12.8m, length with rotors turning: 15.16m, height: 3.59m, width: 2.94m, take-off weight: 4763kg, empty weight: 2740kg, cruising speed: 232km/h, range: 593km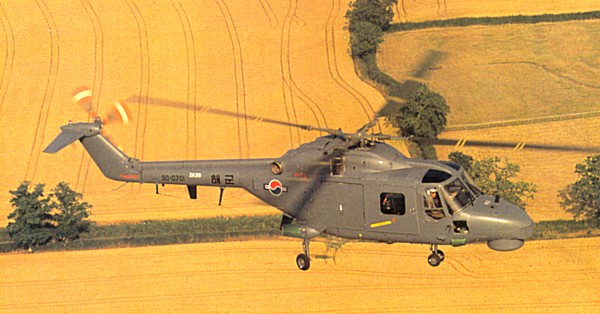 A Super Lynx in service with the Republic of Korea's naval forces.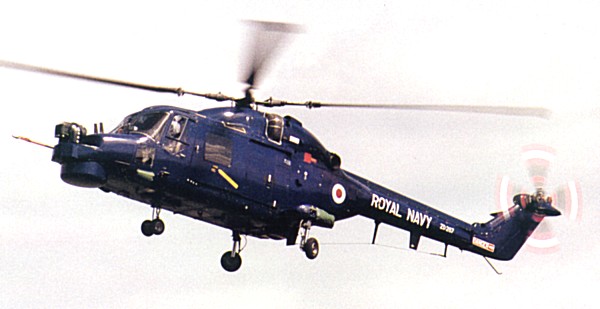 The Royal Navy Lynx HAS-3 modified to become Mk.8 trial aircraft with 360° radar and Sea Owl thermal imager.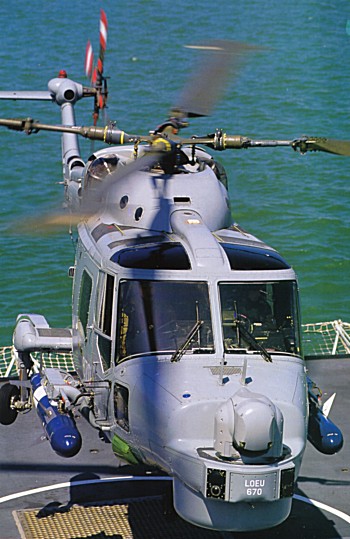 The latest Westland Lynx Mk.8 Helicopter Maritime Attack (HMA) armed with two Sea Skua Anti-Ship missiles operating from the deck of HMS Richmond.
Westland Lynx Mk.8
Westland Lynx Mk.8