1948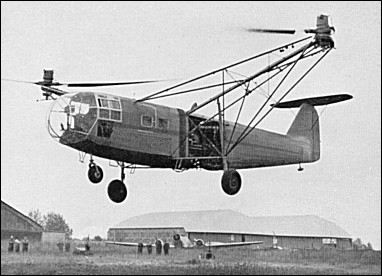 This SE.3000 is a development of the German helicopter Fa.223. Incidentally, Professor Focke himself took part in building the aircraft. Principally designed for transport purposes, this helicopter carried, in addition to the two-man crew, four passengers in a cabin situated behind the pilot's seat. This cabin was forward of the engine compartment. The aircraft was also equipped with a weight-lifting mechanism, which really turned it into a helicrane.
The fuselage was constructed of welded steel tubing. It was fitted with a fin and a rudder. The rotors, the centres of which were 12.5 metres apart, were carried on cantilever outriggers.
P.Lambermont "Helicopters and Autogyros of the World", 1958
Experimental helicopter with two rotors on outrigger pylons, powered by one 1000hp BMW-323-R2 engine. Three built. Prot. F-WFDR FF 23 Oct. 1948.
R.Simpson "Airlife's Helicopter and Rotorcraft", 1998