1952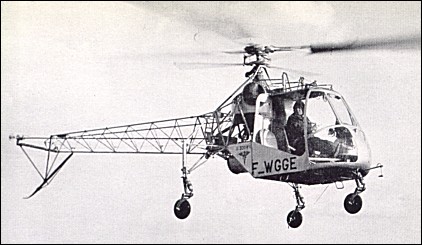 This three-seater was designed to meet a number of requirements in both military and civil use. It has proved an excellent aircraft for agricultural purposes.
It is a standard helicopter. Its rotor has three blades with three degrees of freedom: pitch, in-plane motion and vertical flapping. Pitch is controlled by means of a stabilizing gyroscope.
On and July 1953 this helicopter set up several world records.
P.Lambermont "Helicopters and Autogyros of the World", 1958
General purpose civil and military three-seater, the SE.3120 was built in 1949 and had a conventional design with an articulated three-blade rotor. It was the first of the successful Alouette family of helicopters.
Technical data for Sud-Est SE.3120
Engine: 1 x Salmson 9NH rated at 150kW, main rotor diameter: 11.60m, length: 10.45m, take-off weight: 1150kg, empty weight: 750kg, max speed: 125km/h, service ceiling: 4000m, range: 225km