1979
Designed in the mid-1970s and evolved from the Mi-2/Kania series of rotorcraft, which it strongly resembles, construction began in 1978 of five prototypes of the Sokol (falcon), and the first (SP-PSA) flew on 16 November 1979. Following changes resulting from early flight tests, the second prototype (SP-PSB) flew on 6 May 1982, and series production of civil and military versions began in 1985. The first batch of 50 had been built by mid-1991 and a further batch of 20 are under construction. Customers include the Polish air force (three), government of Myanmar (Burma) (12), and Aeroflot, which operates 20.
VARIANTS
W-3 Sokol-Long: proposed stretched version under development with uprated engines; for military use as 14-seat troop transport
W-3R Anakonda: offshore search and rescue version; partially-amphibious with watertight cabin and six inflatable flotation bags; small number in service with Polish navy following 1989-91 evaluation against Mi-14 'Haze'
D.Donald "The Complete Encyclopedia of World Aircraft", 1997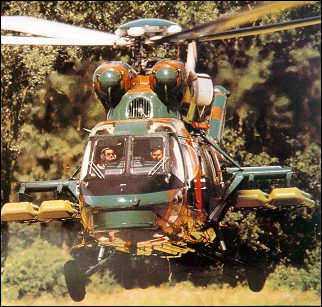 This helicopter is an entirely new design by PZL's design team under Stanislaw Kaminski, and while it is externally similar to the Kania it is a larger helicopter with capacity for two crew and twelve passengers. Aimed at the full range of civil and military applications, the Sokol has been delivered in quantity to the Polish military forces (40 examples) and to Myanmar (12), Korea (3) and the German Border Police (6). On 31 May 1993, it became the first Eastern bloc helicopter to be awarded FAA certification
R.Simpson "Airlife's Helicopter and Rotorcraft", 1998
ENGLISH NAME: Falcon
TYPE: Multirole medium helicopter.
PROGRAMME: Developed under 1970 joint Polish/Soviet agreement; preliminary design by engineers from both countries at Mil OKB in Moscow 1972, where preliminary mockup completed 1975. Detail design and definitive mockup by Swidnik 1976; static/fatigue ground test airframe of 1978 followed by five flying prototypes, first of which (SP-PSA) made first flight 16 November 1979, and used in subsequent tiedown tests; remaining prototypes embodied changes resulting from tests; Soviet participation ended 1980. Manufacturer's flight trials resumed 6 May 1982 with second prototype (SP-PSB); third, fourth and fifth prototypes all made first flights in 1984 on 24 July (SP-PSC), 4 June (SP-PSD) and 26 November (SP-PSE) respectively; certification trials carried out in wide range of operating conditions, including heavy icing and extreme temperatures of -60 and +50°C. Provisional Polish certification 26 September followed by full certification in Poland 10 April 1990, and to Russian NLGW-1 and -2 regulations 17 December 1992; production started in 1985 and 20 early aircraft supplied to Aerofiot from 10 August 1988, but subsequently returned to Swidnik, most being reallocated to Heliseco for firefighting in Spain.
Polish (26 March), Spanish, US (31 May) and German (6 December) FAR Pt 29 (VFR) certification of W-3A received 1993; Polish ICAO-standard noise certification 1995; 100th example completed 1996. MoU 13 April 1996 with Daewoo, South Korea (now part of KAI), for purchase of 35 Sokols with marketing rights in Asia, but payments (and hence deliveries) delayed due to regional economic difficulties. Korean agreement expired April 2003 and not renewed by July.
Under a Polish MoD contract of October 2002, valued at approximately US$22.8 million, PZL-Svidnik is to upgrade 16 W-3W and 12 W-3WA Sokols from 1994/2000 production to NATO-compliant (STANAG 4555) standard with Rockwell Collins AN/ARC-210 U/VHF radios, Bendix/King KLU 709 Tacan, and cockpit instrumentation compatible with the pilot's Litton M927 NVGs. The contract is due for completion by 2006.
CURRENT VERSIONS:
W-3 Sokol: Initial civil and military version; production (52) completed. Two W-3s (0501 and 0502) upgraded by WZL 1 as W-3RL for combat SAR role in 1999 as part of Polish qualification for NATO membership; based at Bydgoszcz. New equipment includes Rockwell Collins search radar, Bendix/King com radios and intercom, Tacan, GPS, radio compass, IFF, searchlight, rescue hoist, stretchers (two) and auxiliary fuel tanks; standard crew of five. One conversion to S-1RR prototype; one other converted as W-3U Salamandra armed prototype but reverted to W-3 and delivered to Myanmar.
W-3W: Armed W-3 (W for Wielozadaniowy: multipurpose) with starboard-mounted 23mm GSz-23 twin-barrel gun; Mars-2 launchers for sixteen 57mm S-5 or 80mm S-8 unguided rockets, ZR-8 bomblet dispensers, Platan minelaying packs, and six cabin window mounted AK 47, 5.45mm Tantal or PKM machine guns. Twenty-two delivered to Polish Ministry of National Defence; entered service with Polish Air Force 47 Szkolny Pulk Smiglowcow (Helicopter School Regiment) at Nowe Miasto (five) and Polish Army (17).
W-3A: Improved (and now current standard) version for Western certification; redesign started 1989; first flight 30 July 1992; FAA type approval to FAR Pt 29 received 31 May 1993, German LBA certification 6 December 1993. Dual hydraulic systems, new de-icing system, Western instrumentation. First delivery, to Saxony Police Department, Germany, 20 December 1993. One W-3A2 (c/n 370508, SP-PSL) fitted in early 1998 with Smiths Industries AFCS (four-axis digital autopilot) with a view to obtaining Polish (GILC) and US (FAA) single-pilot IFR certification.
Detailed description applies to W-3 A, except where indicated.
W-3AM: Version of W-3A with six inflatable flotation bags. Thirteen, mostly for South Korea, produced by January 2002.
W-3WA: Combat support armed version of W-3A; weapons include GSz-23L gun, Strzala-2 AAMs and Polish Gad fire-control system. Total of 27 delivered to Polish armed forces by January 2002: Air Force, five, Army 18, Navy three and MoD one. Three in combat SAR configuration (presumably based on W-3RL) delivered in second quarter 2000 to 7th Cavalry Regiment at Mazowiecki: new comms, NVG-compatible instrumentation, new IFF, classified ESM and armoured crew seats. Four adapted in 2001 for Polish Army smoke-laying role, equipped with PWD Pylia smoke generation system developed by WSK-PZL Rzeszow and the Polish Armed Forces' Chemistry and Radiometry Military Institute; equip 66th Air Squadron.
W-3WB (wsparcia bojowego: combat support): Armed prototype (c/n 360318), equipped 1993-94 by Kentron (hence alternative designation W-3K) with South African weapon systems. Returned to Swidnik 1994 and became HOT/Viviane testbed.
W-3PPD Gipsowka: Airborne command post (powietrzny punkt dawodzenia) version of W-3A. Four conversions to be procured by Polish Army as Mi-2PPD replacements by 2006, first of which (0816) was delivered to 66th Air Squadron in first half of 2001. Specialised command, control and communications (C3) avionics include Thales RRC-9500 UHF (two) and RRC-3500 HF (one) radios, Totem 300 INS and a MIL-STD-1553B databus. Crew includes four operator workstations, each with a 16" flat-panel colour display; flight deck is NVG-compatible. Also to have EW suite (as in W-3), including Thales SPS-H RWR and chaff/flare dispenser. Defensive armament is carried on external outriggers.
W-3RM Anakonda: Offshore search and rescue (ratowinczy morski: sea rescue) version of W-3; watertight cabin, six inflatable flotation bags, additional window in lower part of each flight deck door. In service with Polish Navy (five delivered, of which two since lost; retrofit with folding main rotor blades from late 2000); Ministry of Interior (one) and for Swidnik trials (one). Latest examples, with US FSI Ultra 4000 FLIR, are designated W-3WARM (first aircraft, 360813, delivered 21 May 1998; second, 360815, 15 March 1999; third, 360906, 18 January 2002), the A indicating American (FAA) certification standard and W indicating armament. Upgrade under test from 2000 includes a more advanced engine control system and a deck lock for shipboard deployment.
S-1RR Procjon: Electronic combat reconnaissance (rozpoznanie radioelektronicznego) version of W-3; prototype (c/n 310203) converted from W-3, first flown 1996 and delivered to Polish Air Force by 1 January 1997. Subsequent aircraft designated SRR-10 Procjon-3 (alternative designation W-3RR); first of these (c/n 370720) first flown in 1998 and fully equipped in 1999. ECR suite includes two-place console and chaff/flare dispensers; large external antenna housings include one on nose, one on cabin roof and one on starboard side of fuselage; last-named can be rotated downwards for full 360° scan capability.
W-3H: Unofficial designation for armed support helicopter, derived from W-3WA; pursued as upgrade under new-abandoned Huzar programme. Local requirement for 96. Avionics and weapons fit decided in favour of Israeli (Elbit avionics and Rafael NT-D ATM) equipment in October 1997, but selection immediately overturned by new Polish government; rival avionics offered by Boeing and Sextant, partnered by Hellfire II and HOT 3, respectively. Programme reinstated October 1998 but foundered due to inability to demonstrate NT-D in Poland within deadline of 30 November and Israeli deal cancelled by Polish government on 8 December 1998.
September 1998 co-operation agreement between Swidnik and Euromissile led to integration of HOT 3 ATM on Sokol, followed by successful firing tests during demonstration of HOT/Viviane system at Polish firing range in Nowa Deba on 4 March 1999, using Swidnik trials aircraft SP-SUW (c/n 360318). This aircraft utilised in 2000 as prototype to test new main rotor blades with modified leading-edges and increased damage tolerance. Swidnik continues to offer W-3/HOT 3 variant as potential export version, but domestic requirement for W-3H now shelved in favour of a 50-aircraft support role upgrade of existing Sokols, attack requirement instead being met by upgrading Mi-24 fleet.
SW-5: Provisional designation for improved version under study in late 1990s but not pursued.
CUSTOMERS: Total of 143 (excluding five flying prototypes and four static test airframes) completed by early 2001, of which 131 then in service. Three reportedly purchased in early 2002 by Ukraine Border Guard. However, no new production reported from early 2001 until at least mid-2003.
COSTS: US$3.156 million for basic VFR, single-pilot W-3A (2002).
DESIGN FEATURES: Conventional utility helicopter of pod-and-boom layout and with engines above cabin. Four-blade fully articulated main rotor and three-blade tail rotor; main rotor has pendular Salomon-type vibration absorber for smooth flight and low vibration levels. Transmission driven via main, intermediate and tail rotor gearboxes. Tailfin integral with tailboom; fixed incidence horizontal stabiliser, not interconnected with main rotor control system.
Main rotor blades have NACA 23012M aerofoil section and (on Polish Navy W-3RM) manual folding. Rotor brake standard. Rotor rpm 268.5 (main) and 1,342 (tail); main rotor blade tip speed 220.7 m/s.
FLYING CONTROLS: Three hydraulic boosters for longitudinal, lateral and collective pitch control of main rotor; one booster for tail rotor control. Constant-speed rpm control for continuous operation (manual rpm control also available). Two-axis stability augmentation system with pitch and roll hold. Three- and four-axis AFCS available from late 1994.
STRUCTURE: Rotor blades (main and tail) and single-spar horizontal stabiliser of laminated GFRP impregnated with epoxy resin; tail rotor driveshaft of duralumin tube with splined couplings; duralumin fuselage; GFRP fin trailing-edge.
LANDING GEAR: Non-retractable tricycle type, plus tailskid beneath tailboom. Twin-wheel castoring and self-centring nose unit; single wheel on each main unit. Oleo-pneumatic shock-absorber in each unit. Mainwheel Stomil Poznan tyres size 700x250; nosewheel tyres size 400x140. Tyre pressures 4.90 and 4.40 bar respectively. Pneumatic disc brakes on mainwheels. Metal ski landing gear optional. Six inflatable flotation bags on Anakonda and W-3AM.
POWER PLANT: Two WSK PZL-Rzeszow PZL-10W turboshafts, each with rating of 671kW for T-O and emergency ratings of 746kW and 858kW for 30 and 2 1/2 minutes OEI respectively.
Particle separators on engine intakes, and inlet de-icing, standard. Power plant equipped with advanced electronic fuel control system for maintaining rotor speed at pilot-selected value amounting to ±5% of normal rpm, and also for torque sharing as well as for supervising engine limits during start-up and normal or OEI operation. Engines and main rotor gearbox mounted on bed frame, eliminating drive misalignment due to deformations of fuselage. Transmission rating 1,342kW maximum for T-O, 1,163kW maximum continuous and 857kW OEI. Engine input rpm 23,615.
Four bladder fuel tanks beneath cabin floor, with combined capacity of 1,720 litres. Auxiliary tank, capacity 1,100 litres, optional (not FAA approved). Oil capacity 14 litres per engine.
ACCOMODATION: Pilot (port side), and co-pilot or flight engineer, side by side on W-3 flight deck, on adjustable seats with safety belts. W-3A can be flown by single pilot in VFR, with extra passenger in co-pilot seat. Dual controls and dual flight instrumentation optional. Accommodation for 12 passengers in main cabin or up to eight survivors plus two-person rescue crew and doctor in Anakonda SAR version. Seats removable for carriage of internal cargo. Medevac version can carry four stretcher cases and medical attendant (EMS version, one stretcher, three medical personnel and intensive care suite). Baggage space, capacity 180kg, at rear of cabin.
Door with bulged window on each side of flight deck; large sliding door for passenger and/or cargo loading on port side at forward end of cabin; second sliding door at rear of cabin on starboard side. Optically flat windscreens, improving view and enabling wipers to sweep a large area. Accommodation soundproofed, heated (by engine bleed air) and ventilated.
SYSTEMS: Two independent hydraulic systems, working pressure 90 bar, for controlling main and tail rotors, unlocking collective pitch control lever, and feeding damper of directional steering system; automatic power changeover if one system fails. Flow rate 11 litres/min in each system. Vented gravity feed reservoir at atmospheric pressure. Pneumatic system for actuating hydraulic mainwheel brakes. Electrical system providing 200/115V three-phase AC power at 400Hz and 28V DC power. Electric anti-icing of all rotor blades. Fire detection/extinguishing system. Air conditioning and oxygen systems optional. Neutral gas system optional, for inhibiting fuel vapour explosion.
AVIONICS: Standard VFR and IFR nav/com avionics permit adverse weather operation by day or night. Bendix/King avionics standard; alternatives at customer's option.
Comms: Chrom (NATO 'Pin Head') IFF transponder in military versions.
Radar: Bendix/King RDS-82 weather radar in W-3A; 5A-813 radar in W-3RM.
Flight: Stability augmentation system standard. AP Decca navigator in W-3 KM.
Mission: SPOR search and detection system in W-3RM.
Self-defence: Modified Syrena RWR in military versions initially; to be replaced by Thales EWR-99 (SPS-H in W-3PPD).
EQUIPMENT: Cargo version equipped with 2,100kg capacity external hook and 150kg capacity rescue hoist. W-3RM has 272kg capacity electric hoist; stretchers, two-person rescue basket, rescue belts, two six-person liferafts, rope ladder, portable oxygen equipment, electric blankets and vacuum flasks, various types of buoy (light, smoke and radio) and marker, binoculars, flare pistol and searchlights. Firefighting version: one 1.590 litre 'Bambi bucket' on cargo sling or 1,500 litre expandable underbelly tank.
Jane's All the World's Aircraft, 2004-2005
Technical data for PZL Swidnik W-3
Engine: 2 x PZL-10V turboshaft, rated at 662kW, main rotor diameter: 15.7m, length with rotors turning: 18.79m, fuselage length: 14.21m, height: 4.2m, take-off weight: 6400kg, empty weight: 3630kg, cruising speed: 238km/h, hovering ceiling, IGE: 3200m, range: 745km, payload: 2100kg,