1995
4/5 seat civil helicopter of conventional streamlined appearance with all-metal monocoque fuselage, single three-blade main rotor, skid u/c, tail fin and small tailplane with endplate fins. Powered by one 450shp Allison 250-C20R turboshaft. Alternative powerplant is 615shp P&W PW200/9. 5 built.
R.Simpson "Airlife's Helicopter and Rotorcraft", 1998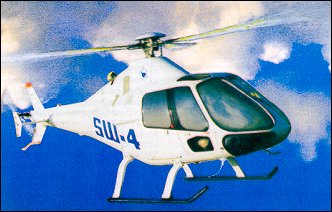 TYPE: Light utility helicopter.
PROGRAMME: Development began 1985: full-scale mockup completed 1987; major redesign undertaken 1989-90, using Allison (now Rolls-Royce) 250 engine in more streamlined fuselage with modified tail unit. Prototype (c/n 600102), rolled out December 1994, is non-flying testbed for ground and equipment tests; '101 is static test airframe, '103 and '104 are flying prototypes. First flight made by 600103 (red overall; later registered SP-PSW) on 26 October 1996 ('official' flight three days later).
Trials in 1997 demonstrated requirement for a new rotor head design, enlarged horizontal stabiliser and more robust hydraulic system. Following 70 hours of test-flying, SP-PSW was grounded in late 1997 for installation of SAMM-designed hydraulic flight control system, with which it was then due to return to flying in 1998. Second flying prototype (yellow overall), with improved skids, exhibited statically at Paris Air Show, June 1997; registered as SP-PSZ in October 1998, but not flown until early 2001. Some 640 hours (total) flown by July 2002, when certification programme almost complete; domestic certificate to JAR 27 awarded 14 November 2002. First five production aircraft started during first quarter 1999; deliveries of these were scheduled to take place in 2003. Second prototype shown at Paris in June 2001; first at Berlin in May 2002.
According to a mid-2003 report, Swidnik considering re-engineering SW-4 with Pratt & Whitney Canada PW200 turboshafts, assembled locally by PZL-Rzeszow.
CURRENT VERSIONS: Will be marketed in two versions:
Economy: With one 336kW Rolls-Royce 250-C20R engine and 1,600kg normal T-O weight.
High Performance: With one 459kW Pratt & Whitney Canada PW200/9 engine and 1800kg normal T-O weight. Provision has been made for later installation of two engines to fulfil ICAO requirements for OEI operation (including hover).
CUSTOMERS: Polish Air Force requirement confirmed in mid-2002 for purchase of 47 by 2010, of which seven planned to enter service in 2005 and 14 in 2006; for use in training role. Two of first five production aircraft scheduled for Polish Air Force Academy were to be delivered in 2003; next three are purchase options for commercial customers. Other orders reported from three unidentified German customers.
COSTS: US$690,000 (2002).
Following description applies to first flying prototype:
DESIGN FEATURES: Intended applications include passenger and cargo transport, medevac, border patrol, armed scout and training use.
Three-blade main rotor; arrowhead tailfin on port side, with two-blade tail rotor to starboard; narrow tailplane with small endplate fins; skid landing gear.
STRUCTURE: GFRP for approximately 20% of airframe, including all rotor blades; remainder mainly of aluminium alloy.
LANDING GEAR: Skid type; able to accommodate heavy landing sink rate, of 3.1m/s by elastic deflection of cross-tubes.
POWER PLANT: One 336kW Rolls-Royce 250- C20R/2 turboshaft. Transmission rating 336kW for T-O, 283kW maximum continuous; 30 minute run-dry capability. Standard fuel capacity 500 litres in tank below main gearbox.
ACCOMMODATION: Pilot and up to four passengers or one stretcher patient and a medical attendant. One front-hinged and one rearward-sliding door on each side of cabin.
AVIONICS: Instrumentation: Bendix/King or Garmin VFR standard. IFR optional.
Jane's All the World's Aircraft, 2004-2005
Technical data for PZL Swidnik SW-4
Crew: 1, passengers: 4, engine: 1 x Allison 250-C20R/2 turboshaft, rated at 270kW, main rotor diameter: 9.0m, length with rotors turning: 10.55m, fuselage length: 8.24m, height: 2.93m, take-off weight: 1700kg, empty weight: 730kg, max speed: 245km/h, rate of climb: 10m/s, hovering ceiling, IGE: 3500m, range: 600km