1954
It has been announced officially that 200 HC-2 helicopters are being built for domestic use and export. They will probably be fitted with the new and specially-developed 105hp M 110 four-cylinder horizontally-opposed engine.
The following details apply to the prototypes, several of which are flying.
TYPE: Two-seat light general-purpose helicopter.
ROTOR SYSTEM: Three-blade main rotor and two-blade anti-torque tail rotor. Main rotor blades of wooden construction with a steel insert in leading-edge for mass balance and plywood covering armoured with fiberglass. NACA 23015 aerofoil section. Blades fully articulated in flapping and drag planes. Single adjustable friction damper for all three drag hinges. Blades mounted on tubular steel spars incorporating tension-torsion bars. Cyclic pitch change actuated by control stick. Collective pitch lever synchronised with engine throttle. Override settings of throttle by means of twist-grip on pitch control lever. Individually-flapping tail rotor blades of laminated wood with fiberglass covering. Pitch of tail rotor controlled by rudder pedals. Additional horizontal tail surface used during transition from vertical to horizontal flight.
FUSELAGE: All-metal semi-monocoque structure, with non-stressed cabin enclosure.
LANDING GEAR: Fixed tricycle type, with castoring nose-wheel capable of swivelling through 360°. Oleo-pneumatic shock-absorbers on all three wheels. All wheels size 260x85mm. Tail-skid to avoid damage to rotor.
POWER PLANT: One 83hp Praga DH four-cylinder horizontally-opposed fan-cooled engine mounted aft of rotor pylon, with crankshaft centre-line inclined at 45°. Drive from engine taken through centrifugal clutch to main gearbox. Free-wheel in main gearbox for autorotation. Tail rotor driven off main gearbox through universal joint and shafting. Engine/ main rotor r.p.m. ratio approximately 10 : 1. Engine/tail rotor r.p.m. ratio approximately 3 : 2. Normal fuel capacity 40 litres. Oil capacity 8 litres.
ACCOMMODATION: Side-by-side seating for two in cabin with Plexiglas canopy. No doors. Dual overhead cyclic control stick. Collective pitch levers on left side of each seat. Starboard controls quickly removable. Cargo or special equipment space at centre of gravity.
Jane's All the World's Aircraft, 1959-60

The XE-II was developed into the proto-type HC-2 Heli-Baby two-seater which had an all-metal fuselage/boom, fixed tricycle undercarriage and 80hp Praga DH engine driving a three-blade rotor. This prototype flew on 3 March 1954, and an order for 200 was announced. It is not clear how many examples were finally delivered, but the HC-2 served with the Czech Air Force for some years.
R.Simpson "Airlife's Helicopter and Rotorcraft", 1998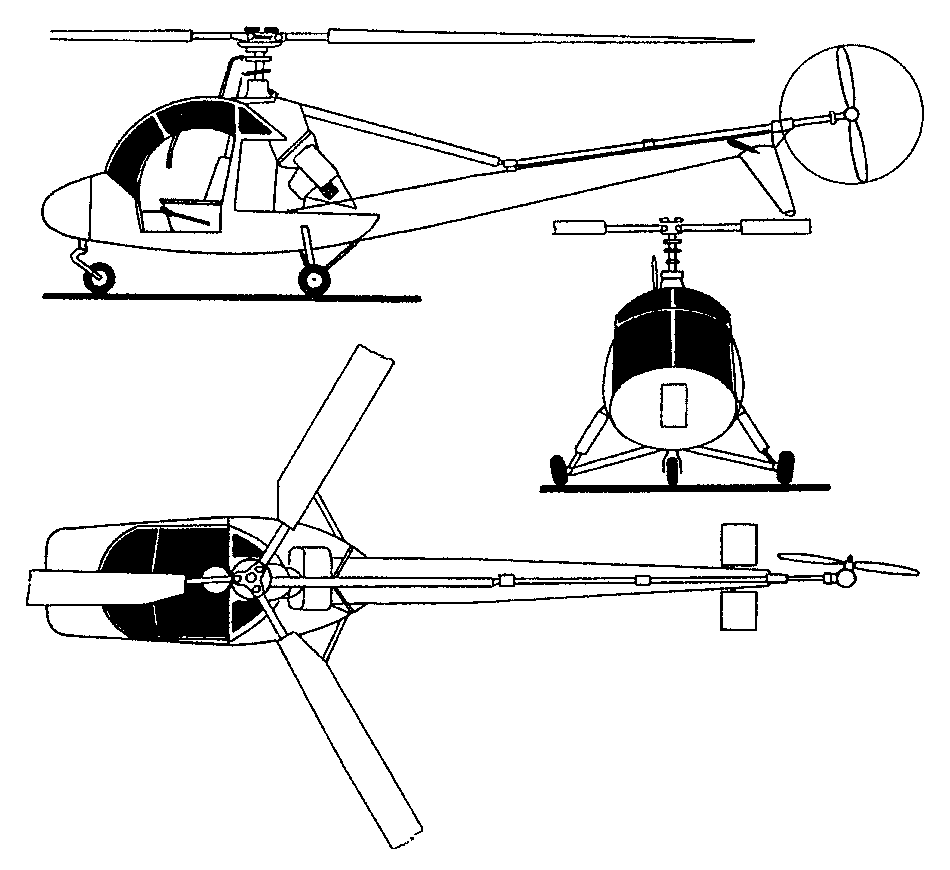 Technical data for HC-2
Engine: 1 x Praga DH pistone engine, rated at 60kW, main rotor diameter: 8.8m, length: 10.50m, height: 2.3m, take-off weight: 580kg, empty weight: 370kg, max speed: 126km/h, cruising speed: 100km/h, ceiling: 3030m, range: 150km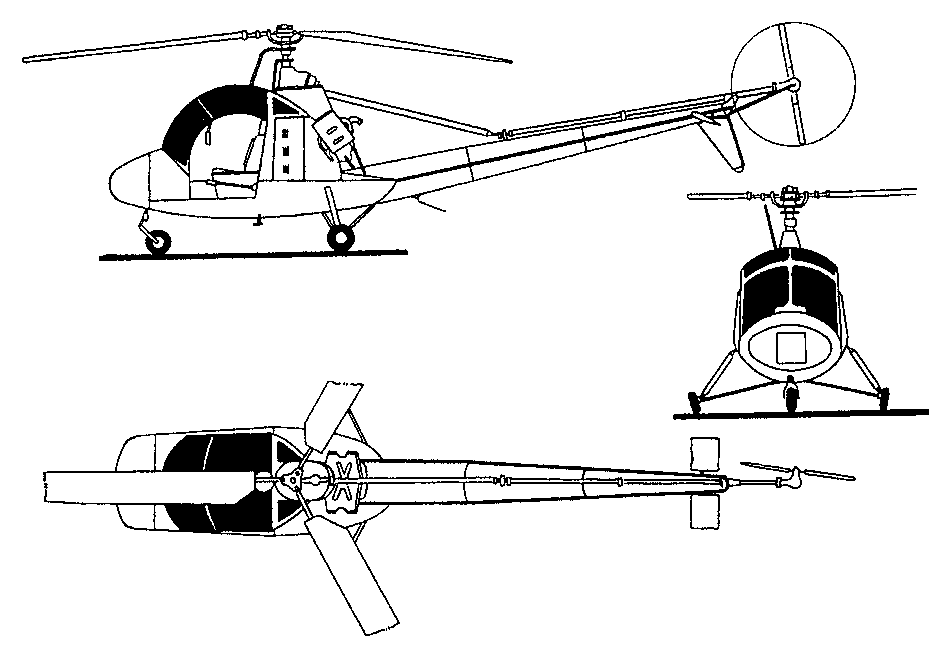 Construction of prototype