1995
Joint Aerospatiale / SAT / CATIC developed light 5-seat executive helicopter with streamlined fuselage and fenestron tail rotor, fixed skid u/c, 3-blade Spheriflex main rotor and one 504shp Turbomeca Arrius turboshaft. Prot. F-WWPA FF 9 June 1995. Two further prototypes completed.
R.Simpson "Airlife's Helicopter and Rotorcraft", 1998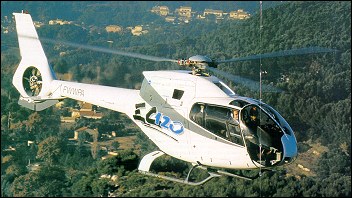 TYPE: Light utility helicopter.
PROGRAMME: Definition phase of original P120L launched 15 February 1990; subsequently redesigned with 500kg lower gross weight and new engine and rotor; development contract signed October 1992; redesignated EC 120, January 1993; design definition completed mid-1993; assembly of first of two prototypes began at Eurocopter France at Marignane in early 1995; first flight (F-WWPA) 9 June 1995; second prototype (F-WWPD) flown 17 July 1996; certification to JAR 27 was achieved on 16 June 1997 (following Arrius 2F engine approval by DGAC on 22 January 1997); FAR Pt 27 certification on 22 January 1998; operations in cold weather certified late 1998; first production EC 120 (c/n 1005) flew 5 December 1997 before delivery to Japanese distributor Nosaki on 23 January 1998 for eventual use (as JA120B) by Nosaki Sangyo, Osaka. Eurocopter has 61% share and responsible for instrument panel, landing gear, seats, rotor system, transmission, final assembly, flight test and certification; CATIC (China National Aero-Technology Import & Export Corporation in the form of Hafei Aviation Industry Company; 24%) for cabin structure and doors, engine cowlings, pod central and intermediate structure and fuel system; and Singapore Technologies Aerospace (15%) for tailboom, fin, horizontal stabiliser, Fenestron, general doors and instrument pedestal. Joint design team working in Eurocopter France at Marignane. Global support system, with 13 product centres, being initiated. Australian assembly centre established as part of offsets for 2001 purchase of Tiger attack helicopters by Australian Army, with first Australian-assembled EC 120 BS expected to be completed in mid-2003; Australian production targets are six in 2003, 12 in 2004, rising to 20 per year, but transfer of all EC 120B production to Australia under consideration in 2003. By August 2002, total fleet time stood at 139,000 hours.
CUSTOMERS: More than 300 ordered by 211 customers in 28 countries by late 2002. Recent customers include the Spanish Air Force: which ordered 15 in 1999 for basic training; deliveries began 26 July 2000 and were completed in July 2001; and Air Logistics, which took delivery of six in 2001 for offshore operations in the Gulf of Mexico. Three ordered for Indonesian Navy and 12 for Indonesian Air Force; deliveries began June 2001. 100th aircraft handed over 19 April 2000 to a German customer, 200th to a Swedish customer on 29 March 2001; 300th to Australian customer 8 November 2002. Deliveries in 2000 totalled 91, compared to 52 in 1999; orders for the same periods were 61 and 36 respectively, followed by 81 in 2001. Target production is for 900 by 2008; total market estimated at 1,600 to 2,000 during production life.
COSTS: US$840,000 (1999). Spanish contract for 15 valued at ˆ15 million (1999), including training and spares.
DESIGN FEATURES: Pod-and-boom layout; horizontal stabilisers, fin and underfin for directional stability; anti-torque Fenestron. Three-blade main rotor on Spheriflex hub rotating clockwise (nominal rotor speed 406 rpm) integrated with main shaft and transmission; two-stage reduction gear; rotor brake; eight asymmetrically positioned bladed New Generation Fenestron (nominal tail rotor speed 4,567 rpm). External noise almost 7 dB below ICAO limits. Single level cabin floor. Engine mounted to left of main rotor mast to improve balance by counteracting main rotor downwash.
FLYING CONTROLS: Control forces on collective and cyclic reduced by three electrically actuated hydraulic servos operating at 37 bar. Tab on each main rotor blade trailing-edge at three-quarter span.
STRUCTURE: Main rotor blades have carbon fibre rib with foam filler and glass fibre skin, plus stainless steel attachment bushes and leading-edge. Titanium alloy Spheriflex head and shaft made as single composites assembly; metal centre-fuselage; light alloy skid landing gear; crashworthy seats and fuel system. Light alloy tail rotor shaft.
LANDING GEAR: 'Moustache' configuration of fixed skids, having sweptback forward supports and full-width boarding step. Optional 1.50m skis for snow operations.
POWER PLANT: One Turbomeca TM 319 Arrius 2F engine selected for first 300 EC 120s; rating 376kW for T-O, 335kW max continuous. Transmission rating 330kW. Fuel capacity 416 litres in two tanks (one located beneath cabin floor and one above baggage compartment); usable fuel 406 litres.
ACCOMMODATION: Pilot and four passengers (or pilot, patient and paramedic in HEMS configuration); two front seats and one rear bench seat. Large door, front, starboard; hinged front and rear sliding door, port. Compartment below engine on same level as cabin floor, accessible from cabin, by external side door and rear door. Seating conforms to new FAR Pt 27 requirements for 30g vertical and 18g horizontal deceleration. Dual controls optional. Accommodation ventilated and heated; air conditioning optional.
SYSTEMS: VEMD (vehicle and engine multifunction display), fitted as standard, is a fully duplex three-module processing system using two glass screens to monitor performance and maintenance requirements. Electrical system includes 4.5kW 28V DC starter/generator and Ni/Cd battery.
AVIONICS: To customer's requirements. Six standard packages available for passenger transport (two), law enforcement, training (two) and utility.
Comms: Bendix/King: KX 165 nav/com/glideslope and secondary KY 196A VHF, Jolet JE2 NG ELT, Bendix/King KT 76A transponder and Team SIB 120 interphone in typical passenger configuration.
Flight: Trimble TNL 2101 GPS with moving map in typical passenger configuration.
Instrumentation: Standard fit of VEMD, ASI, NR/NF dual indicator and altimeter.
EQUIPMENT: Optional Aerazur emergency flotation bags, and cable cutters. Optional pilot-controllable swivelling landing light. Optional windscreen wipers.
Jane's All the World's Aircraft, 2004-2005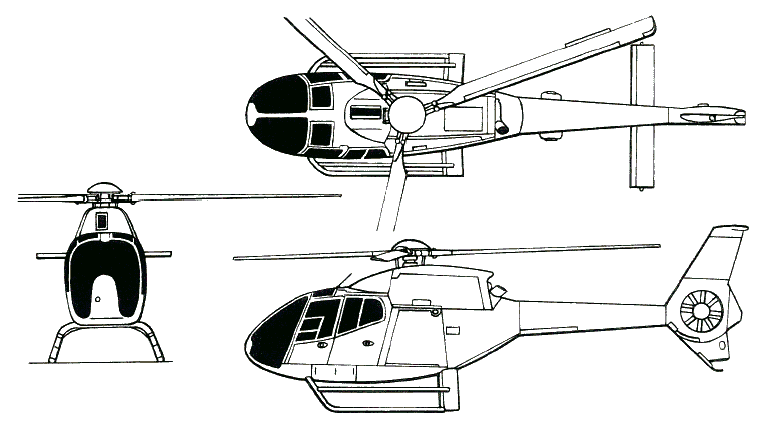 Technical data for EC-120
Main rotor diameter: 10.00m, fenestron diameter: 0.75m, overall length, rotors turning: 11.52m, fuselage length: 9.60m, height overall: 3.40m, height to top of rotor head: 3.08m, empty weight, standard: 960kg, empty weight, typical passenger fit: 1007kg, max T-O weight, internal load: 1715kg, max T-O weight, external load load: 1800kg, max sling load: 700kg, never exceed speed: 278km/h, max cruising speed with 1715 T-O weight: 226km/h, econ cruising speed: 191km/h, max rate of climb at sea level: 366m/min, service ceiling: 5180m, hovering ceiling, IGE: 2820m, hovering ceiling, OGE: 2320m, range, no reserves: 727km, endurance, no reserves: 4h 32min
Standard EC-120B used for an event organized by the GPS producer Tom Tom. It wore the Tom Tom markings for only two days. (Johan Visschedijk Collection, 1000aircraftphotos.com)