1944
This first prototype, powered by a 60hp Walter Mikron II engine, was flown in spring 1943. The airframe, constructed from welded steel tube and fabric covered, had a gross weight of 360kg, twin tail fins and a tricycle undercarriage. Flight testing revealed the need for rather more side area, but performance was otherwise satisfactory, and when the WNF factory was damaged during an Allied air attack in mid-August 1943 the aircraft was moved to a safer site west of Vienna, at Obergraffendorf. Here a second machine, the WNF-342V2, was built, being a somewhat heavier aircraft at 460kg gross weight, despite its open-framework fuselage. The main difference lay in the sail-like tail unit, this comprising a large single rectangular fin and an elongated rudder pivoting about a horizontal axis.
K.Munson "Helicopters And Other Rotorcraft Since 1907", 1968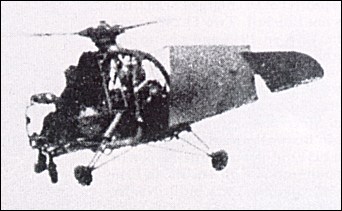 The first version, which had been slightly damaged during an air raid on Vienna, was moved to Obergraffendorf, a place some 12 miles to the west, so that trials could proceed without interruption. A more powerful engine converted version I into version II.
P.Lambermont "Helicopters and Autogyros of the World", 1958
Technical data for WNF-342 V2
Number of seats: 1, engine: 1 x 90hp, weight fully loaded: 460kg, empty weight: 340kg