1949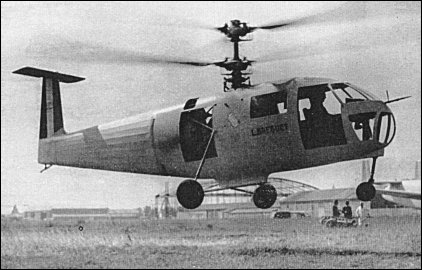 Louis and Jacques Breguet were among the first aircraft constructors to become world-famous and they were also rotorcraft pioneers. In fact, Louis Breguet's "Gyroplane" of 1908 was one of the first helicopters to raise itself off the ground. With the outbreak of the First World War the Breguet brothers devoted their energies to airplane manufacture and only returned to the construction of helicopters when the Second World War was over. During the intervening years the company had become well known for its military and civil aircraft and Breguet played a very significant role in the recovery of the post-war French aeronautical industry.
Louis Breguet produced his third "Gyroplane" in 1949. This was the Model G.IIE which had a streamlined fuselage and T-tail and cabin space for a pilot and four passengers. A 335kW Pratt & Whitney Junior engine drove two three- blade, coaxial, contra-rotating rotors fitted with Sikorsky-type controls.
Market prospects for the Gyroplane were good, thanks above all to its fast cruise speed of circa 200kph but unfortunately, the aircraft never went beyond the prototype stage, owing to lack of funds.
Constructed on behalf of the Societe Francaise du Gyroplane by Breguet, the G.IIE first flew on 21 May 1949, at Villacoublay-Velizy to the south of Paris. This prototype had an all-metal fuselage with a tall fin and small T-tailplane. It used the coaxial rotor approach to torque-neutralisation and had a cabin for five people and a fixed tricycle undercarriage. The 240hp Potez 9E engine was buried in the fuselage behind the cabin, and three-bladed all-metal rotors were used. The G.IIE was found to be underpowered and it was re-engined with a 450hp Pratt & Whitney Wasp Junior - in which form it became the G.III. Following testing in 1951 development was discontinued and F-WFKC was donated to the Musee de l'Air.
R.Simpson "Airlife's Helicopter and Rotorcraft", 1998
Technical data for G.IIE
Crew: 1, passengers: 4, engine: 1 x Pratt & Whitney R-985 rated at 335kW, rotor diameter: 9.60m, length with rotors turning: 9.70m, height: 4.24m, take-off weight: 2100kg, empty weight: 1473kg, max speed: 215km/h, hovering ceiling, IGE: 1600m, service ceiling: 4600m, range: 470km