1958
This famous automobile-manufacturing company has produced the prototype of a light helicopter designed by Prof. Dr.-Ing. E. H. Focke, whose Focke-Wulf Fw.61 aircraft of 1937 was one of the earliest successful helicopters. Details of this aircraft, the Kolibri I, follow.
BORGWARD KOLIBRI I
The Kolibri I is the first helicopter of German design to have flown since the war. The prototype made its first free flight on July 8, 1958, piloted by Herr Ewald Rohlfs, who set up several international helicopter records in the pioneer Fw.61 in 1937. Airworthiness trials were progressing satisfactorily in the Spring of 1959, and plans are being made to put the Kolibri in production.
TYPE: Three-seat light helicopter.
ROTOR SYSTEM: Three-blade main rotor. Blades have steel-tube spar, with plastic-bonded plywood covering. Fully-articulated hub with adjustable friction dampers. Main rotor blade area (each) 1.28m2. Main rotor disc area 70m2. Two tail rotors, inclined at 45° to horizontal, at extremities of tail stabilisers. Tail rotor blades of plastic-bonded plywood. Tail rotor disc area (total) 4.3m2.
ROTOR DRIVE: Main rotor drive via two-stage cam-wheel. Tail rotor drive via hollow steel-tube shaft and two bevel-gears. Main rotor/engine r.p.m. ratio 1 : 10. Tail rotor/engine r.p.m. ratio 1 : 6.75.
FUSELAGE: Uncovered steel-tube girder fuselage.
LANDING GEAR: Tricycle type. Shock-absorption by torsion spring and Borgward hydraulic damper. Wheel track 1.93m. Wheel base 1.80m.
POWER PLANT. One 260hp Lycoming YO-435-A1B six-cylinder horizontally-opposed air-cooled engine. Fuel tank aft of rear fire-wall, with capacity of 180 litres. Oil capacity 15 litres.
ACCOMMODATION. Normal seating for three persons, with central seat behind and on a higher level than front two seats. Alternative loads can include pilot with one internal and one external litter casualty, agricultural spraying or dusting equipment, or up to 300kg of freight slung from an under-fuselage hook.
Jane's All the World's Aircraft, 1959-60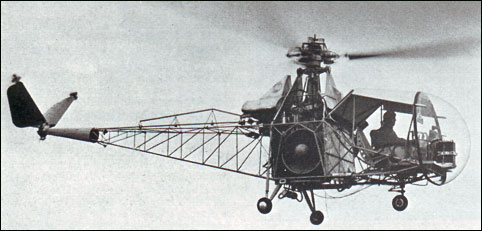 The German car manufacturer, Borgward set up a helicopter division in 1956 under the leadership of Prof. Heinrich Focke. A light three-seat helicopter, the Kolibri I, was designed and the prototype was flown at Bremen on 8 July 1958. This prototype had an unclad tubular fuselage with a forward cockpit enclosed with bubble canopy, the 260hp Lycoming VO-435-A1B engine in the centre section and a conventional tail boom. The Kolibri was fitted with a V-tail carrying two tail rotors at the tips. The main rotor was a three-blade steel unit with a fully articulated hub and adjustable friction dampers. Only one prototype Kolibri was built and development was abandoned with the liquidation of Borgward.
R.Simpson "Airlife's Helicopter and Rotorcraft", 1998
Technical data for KOLIBRI I
Main rotor diameter: 9.40m, length of fuselage: 8.30m, height to top of main rotor head: 3.05m, tail rotor diameter: 1.66m, weight empty: 800kg, weight loaded: 1200kg, max speed (est.): 160km/h, cruising speed (est.): 140km/h, rate of climb at sea level (est.): 240m/min, vertical rate of climb at sea level (est.): 60m/min, absolute ceiling (est.): 4500m, hovering ceiling OGE (est.): 600m, endurance: 3.0h