14 October 2018. Another fun ekphrastic event in Benicia,
April 2018 celebrated with the release of two anthologies: 
The Ina Coolbrith Circle Gathering 14, 2017-2018, and 
the Benicia First Tuesday Poets' seventh anthology, "Light and Shadow."
19 November 2017. Another fun ekphrastic event in Benicia.
1 August 2017 Look forward to Sunday, as below.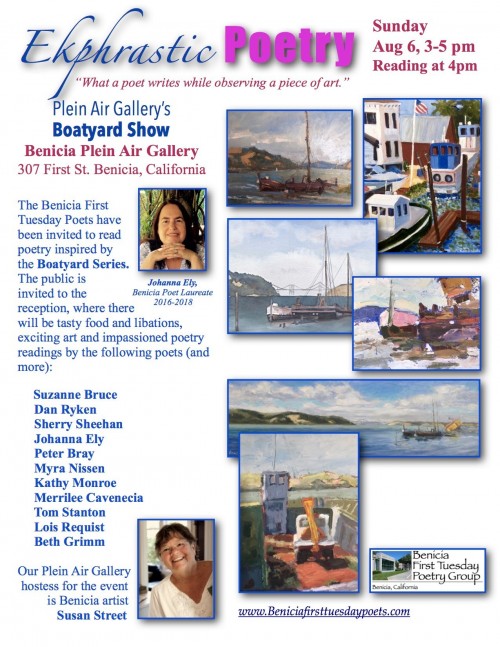 1 April 2017 Added "Josephine" to Winners page (navigation upper left).
13 February 2017
At Arts Benicia, 991 Tyler St., on Saturday afternoon, 4 February 2017, an ekphrastic reading with 20 Benicia First Tuesday poets for "The Art of a Community" attracted a sizable audience to celebrate many of the 200+ art works at the exhibit. A binder of the 40+ poems we read is on site. The exhibit will remain until Sunday, 19 February, 2017. Hours 12-5, Wednesday-Sunday.
5 November 2016
Ina Coolbrith Circle's 97th annual banquet was fun to read for and win a prize at (third in Humor for "Vicarious Exercise"). Here's a photo of banquet host Connie Post (in black) with readers Deborah Grossman, Stan Morner, Charlie McCauley, and me (behind Stan).
25 September 2016
Thanks to Dr. Jim Ott, yesterday's feature at the Ina Coolbrith Circle meeting, my poem "Escape" landed in the ICC Po-Bowl at 
http://coolpoetry.org/inthepobowl.html for a month.
12 August 2016 Benicia Plein Air Gallery reception with paintings by all 12 artists, for whom the Benicia First Tuesday poets wrote and delivered their poems. 
http://www.beniciapleinair.com/
I was happy to see one of my poems published in the 12 August Benicia-Herald.
http://beniciaheraldonline.com/poetry-corner-sherry-sheehan-depot-delights/
23 July 2016 Participated in the Nikki Basch Davis Benicia Library exhibit with other First Tuesday poets.
25 June 2016 Benicia First Tuesday Poetry group's sixth anthology, Crossing the Strait, launched at the Benicia Public Library (100+ pages).
19 March 2016
is
Catherine Fasciato
's Saturday afternoon reception at 
the Benicia Plein Air Gallery, 307 First Street, from 4 to 6 p.m., where 
Frances Jackson
 and I will read our poetic tributes to Catherine's ocean paintings. More information is here:
http://www.beniciapleinair.com/Benicia_Plein_Air_Gallery/Home.html 
8 January 2016 Added Coastal Jewelry to WINNERS page (Navigation to the left). 
24 October 2015 Very much enjoyed participating in this Ina Coolbrith program put together by Maggie Morley and videotaped, where it can be accessed here: 
http://coolpoetry.org/iccatthetheater.html
Saturday, October 24th, 2 p.m.
THE CAMPBELL THEATRE
636 Ward Street 
MARTINEZ, CA
The following members read about Ina's contemporaries and from their poetry:
Richard Angilly: George Sterling
Stan Morner: Bret Harte
Sherry Sheehan: Jack London
Tanya Joyce: Joaquin Miller
Robert Eastwood: Robinson Jeffers
1 August 2015
 Enjoyed the reception for "Streets and Straits in Poetry and Paint" at the Benicia Library, where more than a dozen of us read our poems for 
Benicia Plein Air Gallery artists' 
paintings on exhibit at the library through August. Here's the poster Peter Bray created for the event.
11 June 2015 Added Mary Reusch's painting "Abode" to MORE EKPHRASTICS with my ekphrastic poem for it, "A Bonnard Bath."
23 May 2015 Enjoyed co-featuring with Deborah Silverman at the Frank Bette Center for the Arts in Alameda.  Jeanne Lupton runs a fun venue.
11 April 2015
Added to the WINNERS page (menu to the left).
9 December 2014 "An Exploration of M.A.R.S.: Poems inspired by the Art of Marco Antonio Rosales Shaw" is an anthology of poems by Suzanne Bruce, Susan Condeff, Deborah Fruchey, William Landis, Stan Morner, Indigo Moor, Maria Rosales, Deborah Silverman, Sandra Lee Stillwell, and me.  This beautiful 50-page paperback is available at Amazon for less than $10.  "Wipe-out," one of my poems in the book, has been added to ANTHOLOGIZED (menu to the left).
[earlier events deleted]
Welcome to my paperless poArtry and poetry pages. Since composing this Home page in October 2008, I've added more recent updates and a few more pages, clickable under Navigation to the left. 
For links to more art and poems at other sites, please scroll to the end of this page.
Thanks!
The five poems on this home page are
DELIVERY
CLAIRE'S TREE
CARQUINEZ FROG
IRONIES AT THE DMV
ENCOUNTER ON I-80
This mysterious Santa Fe painting by Michigan artist Mary Reusch provoked a small ekphrastic tribute below.
DELIVERY
after Mary Reusch's painting, "Inside the Kiva Inner Door, Inner Light"
What glows so much that its identity mystifies me
Makes me think of a heavenly newspaper delivery
Makes me wonder whether I could read about the dead
Not their obits as in our newspapers
But their doings as related in this dispatch
Tell me please that such a medium exists
That even if on earth our newspapers
Are dying
The dead have not discarded theirs.
For my granddaughter Claire's seventh birthday in October 2008, I sent her this poem written when visiting her and her family in Michigan shortly after her birth.
CLAIRE'S TREE
Through a window wet with rain
I see a row of cypress sway.
They mark the nearby neighbor's lane
a minute's walk away.
I hold my infant grandchild, Claire.
While watching from our kitchen spot,
we sway the same in our cool air.
October here is not that hot.
Though I've no leaves for her to munch,
she holds me like a koala bear
who's found a eucalyptus notch
that she's prepared to share.
While wind and water swirl outside,
I shift from one leg to the other.
I'm the traveling tree she rides,
her just arrived grandmother.
Here's a long ago poem I still like. 
 CARQUINEZ FROG
A frog near a pond,
on a smooth stone,
not moving,
I lie in bed
under a leaf
on a hot morning,
waiting
for a flyspeck of desire
to prod me to action.
My pond is the Carquinez Strait,
at least a mile from here,
at least an hour's hopping,
but I remember a closer pond,
empty in the next room,
the clawfoot tub.
I'll start the water in it,
rub the mud from my thinking,
and soak until I'm human.
Published in "Windows & Skylights / Anthology 3 / Benicia First Tuesday Poets (Outskirts Press, Inc., 2010) and in the Benicia Herald on April 26, 2011, as part of its April poetry series.
The two poems that follow appeared in the Crockett Signal.
IRONIES AT THE DMV
"Perfect score," she beamed,
looking up from my DMV
exam. "Blue eyes, brown hair"
the other clerk said, sharing
my stats, ignoring the gray
and buying the figure I gave
as my weight, which let me
leave, confident in my abilities,
until I couldn't find my car
without asking a stranger
to direct me to the store
whose parking lot I'd used.
More attuned
to the printed page
than to the real world,
I combined the two
in a dark cartoon
when I chanced to witness
a passing Prius
whose driver blew
a cloud of smoke
from the cigar he chewed.
ENCOUNTER ON I-80

From the back of a Berkeley Farms van
a painted Holstein looks at me.
She seems black-and-white sure
of her place in the universe.

As we roll down I-80,
I talk to her through my windshield.
She's a silent metal shimmy
among thick-trunked trees.
Her eyes are meltingly real.
I am reassured by her bovinity.

I inform the Holstein, who keeps a watch on me,
that I'm on my way to a latté,
a drink of steamed milk rich in calcium,
and that its espresso with flavonoids
is also healthy.
I call the latté my medicinal libation.

As the Berkeley Farms van pulls away,
I thank the silent Black and White
for my upcoming milk and caffeine fix.
It couldn't exist
without her adorably lovely coy cowness,
now disappearing into the distance. 

© Sherry Sheehan
LINKS
FOR MORE ART WITH POEMS
Poet Suzanne Bruce and multimedia artist Janet Manalo's ekphrastic site is here
For Michigan artist Mary Reusch's site, where many of her portfolio paintings click into poems by her Michigan poet Ed Haworth Hoeppner and by me, please click on
John Rowe, fellow cow-loving poet, has a page devoted to bovine poems; John resides at