6/19/2005
Access from Big Pine, CA:
Take Tinemaha route from 395 to Red Mountain Lake Trailhead (6568').
Details
Split Mountain:
I hiked up the sandy, overgrown trail to Red Mountain Lake, then around the north side of Red Mountain Lake to the base of Split Mountain's east face. I noticed a bergshrund dividing my planned ascent/descent. The bergshrund was dividing the glacier just below St. Jean's Couloir. I decided to climb up to the base of the couloir to see how dangerous crossing it solo might be. When I got up to the bergshrund I noticed that it was ~30 feet deep, at least 2 feet to cross and the base of the couloir was ~4 feet higher than the glacier. I did not feel comfortable crossing this solo, so I skied down to the base of the north slope route. The snow had some serious runnels in it. I climbed the north slope route up to the Split Mountain (14058') - Mount Prater (13472') saddle. I dropped my skis, boots, crampons and ice axe at the saddle before summiting Split Mountain because it was late and I figured it would be faster to shed some weight. I skied down from the Split Mountain - Mount Prater saddle into a canyon almost to Red Mountain Lake. The top of the canyon was 45-50 degrees, but the snow was very firm since it was 7:15P when I started my descent.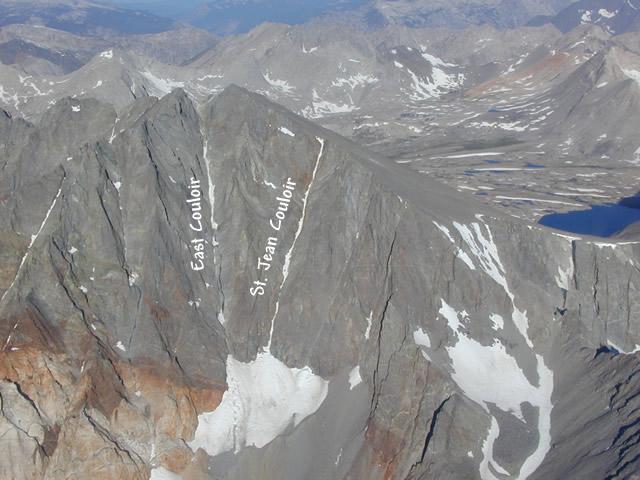 East Couloir and St. Jean's Couloir are annotated. The canyon I skied is shown on the right (north). Photo:
summitpost.org
Avalanche Conditions:
Spring conditions; saw old loose avalanches.
Total Elevation:
~8500'
Total Skied Elevation:
~3000'