Welcome to the Illinois Postal History Society (IPHS) website and archive. Here you'll find an index and excerpts from IPHS flagship publication, the Illinois Postal Historian. There are also Illinois postal history exhibits and occasional news of our society activities, as well as tips on researching and collecting Illinois postal history.
Announcements:
IPHS 2021 Calendar:
The Society is carefully watching stamp show reopenings and will soon make plans for in-person meetings in 2021.
Illinois Postal History Items:
Mason City precancelled postal stationery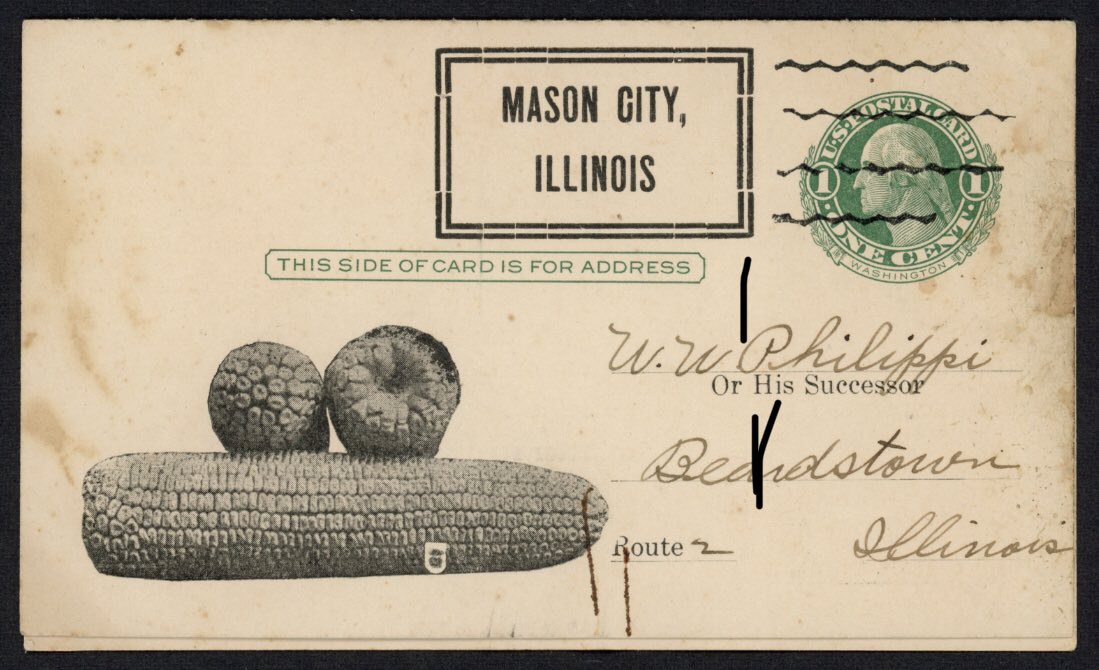 Palos
What do these stamps and postal items have to do with Illinois postal history? The name of Palos Township, in Cook County, southwest of Chicago, is named for Palos de la Frontera, Andalusia, Spain. Three municipalities within Palos Township bear this name: Palos Park, Palos Hills and Palos Heights. Within this township is buried remnants of 
world's first man-made, self-sustaining nuclear chain reaction in motion as Chicago Pile 1, famously conducted by scientists under the direction of Enrico Fermi at the University of Chicago in 1942. Palos Township is within Illinois 3rd congressional district, who controversially named a neo-Nazi Holocaust denier to the Republican ballot for United States House of Representatives in 2018.
Illinois Statehood 1818-2018
Illinois Wheel of Fortune Cancellations exhibit by Larry Rausch
The Dunning substation (Chicago) post office made the cover of the American Philatelist magazine this month. Once an independent post office, Dunning, IL became part of Chicago in 1894. The office was renamed the Dunning sub-station. You can read the entire article about sub-stations around the USA as the AP feature for November 2016.
1857 Jefferson, ILL manuscript cancel
This monument at Rosehill Cemetery in Chicago is a US Postal Service train entering his final tunnel. 
pic.twitter.com/ceGRRhee3R
County maps from the early days and pre-Illinois.
Click here
 for full website.
Early Chicago History Covers at Peoria
by Charles Wonderlin



If you want to make the greatest Chicago Postal History find of your life, my advice is to start with common Peoria stampless covers or folded letter sheets. Here is why.

In 1825 tax assessments for residents of Chicago appeared in the records of Peoria County, which had been established in that year. Chicago was listed as a precinct of Peoria County. Cook County was established in 1831. On the list was John Kinzie and Alexander Wolcott. Kinzie had the first real home in Chicago, if you can call it that and he was Chicago's foremost pioneer. Wolcott was a physician and Federal Appointed Agent of Indian Affairs. 

Here is the rest of the story. Back in the early 1980's I purchased a Peoria stampless cover collection for a modest price, which was the then market. I got it to my home near Edelstein, Illinois and about eight in the evening started opening the folded letters. About eight letters in I froze, my heart no longer functioned and things became blurred. The bottomed of the letter was signed John Kinzie and the letter told that Kinzie was having Wolcott carry it to Peoria and be mailed. Sure enough it carried a Peoria postmark. The letter was stated to be written in the Kinzie cabin. Here is the problem. Chicago has had more then one great fire. There are three real Kinzie letters known, I had number four. 

I did three days of research before the world wide web and made a call. The collector of course went crazy as we both knew what it was. So my advice is for all collectors and dealers and historical societies to start checking the contents of Peoria stampless folded letter sheets. I am sure this publication would like to hear about your Kinzie finds.