Alfoxton Today
17th August 1912 - Postcard from Alfoxton, postmarked Holford Bridgwater


Set in a hollow on the lower slopes of the Quantock Hills and surrounded by 50 peaceful acres of its own grounds, Alfoxton enjoys magnificent views across the Bristol Channel towards the Welsh coast. The Manor of Alfoxton is recorded in the Doomsday Book and there has been a dwelling at Alfoxton Park for centuries.  Alfoxton House was also known as Alfoxton Park and had various spellings such as Alfoxden & Alfoxdon.  It was rebuilt in 1710 after the previous building was destroyed by fire. The house was the home of the St. Aubyn family. As well as a private dwelling the house
 has been a religious centre and a hotel (converted in 1959).  
During WW2 American troops and nurses were based there. The main house was also used to house evacuees from Wellington House School in Westgate-on-sea, Kent (now closed).  More details of this can be found in 'Holford at War'. 
The building was refenestrated and re-roofed in the 19th century. It was changed and extended significantly since the time of the Wordsworths to turn it into a country hotel. It has been designated by English Heritage as a grade II listed building.
American troops arrive at Alfoxton 1943
In 1943 a contingent of American troops 40th Tented General Field Hospital and American nurses were stationed in a specially built camp in Alfoxton Park as part of the preparations and build up to D-Day. They were welcomed by the locals who were entertained by concerts of folk songs and spirituals given by the black soldiers.
40th FLD HOSP - ETO 11 Mar 44 England (first assignment to Ninth US Air Force/IX Troop Carrier Command, as a USAAF Hospital, only 2 out of 3 Platoons were assigned to the IX TCC, each of the 2 Platoons operated as 'separate' Air Force Clearing Stations) no further data available re service on the Continent after D-Day.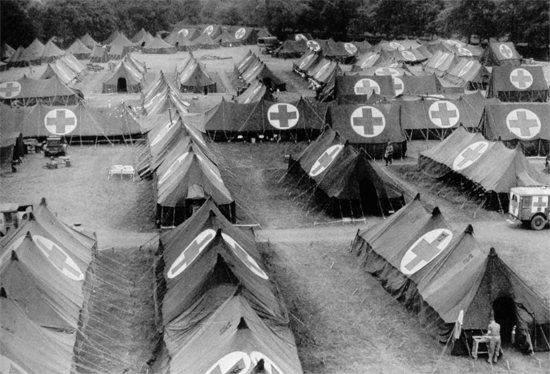 A typical tented field hospital
The question of an adequate water supply for the camp raised a problem. Water for the village came from a 4'' main from Hodders Combe reservoir spring, but this was too small to supply the camp as well. A solution was found by diverting water from the stream, through the reservoir, then by a 3'' main pipe to the camp.
Take a walk down Alfoxton Drive and you can still see where this camp left it's mark. On the right hand side, just before you get to a bench, is a clearing with fairly young saplings. This was where the Americans cleared the trees for use as a vehicle park. Further up the drive at the Alfoxton gate / cattle grid, the field to the right has concrete blocks in it. These formed the foundations for the searchlight used for searching for enemy aircraft of the German Luftwaffe coming up the channel. They are clearly visible on Google Earth. The field is still called 'Searchlight' by locals.
At Alfoxton there is also a line of three bomb craters (now filled in) leading from Kilve to Alfoxton. A stricken German Luftwaffe plane returning from a bombing raid on Bristol released what was left of his bomb load and narrowly missed the American Camp. The craters are visible only when the fields are ploughed and this shows a difference in soil colour. This can also be seen on Google Earth.
On the eve of departure to France the American nurses made a most welcome gift to the village of womens' clothing, shoes, cigarettes and electrical equipment. Much of this was used for evacuated families.

Memories of US Troops at Alfoxton by Edwin John Summerhayes
My earliest memories are of the later war years. We had evacuees from Bristol living in part of the house. I also remember sitting on the garden wall which was alongside the main road and being thrown chewing gum by the American soldiers billeted at the nearby camp at Alfoxden. My brother and the boy in the other half of the house, Vernon, were green with envy when they got home from school.
US Troops at Alfoxton prior to Normandy 1944 - See
Holford at War
On 2nd June 1944 Company F, 314
th
Infantry Regiment, 79
th
Division US Army arrived at Alfoxton. During the period of June 2nd to 10th June, 1944, the regiment was encamped at Alfoxton Park which served as a staging area in advance of their movement to a marshaling area at the port of Southampton and subsequent departure for Utah Beach Normandy France.
The most recorded period in the history of the house was when romantic poet William Wordsworth and his sister Dorothy lived here.  In 1797 they leased the property, which was then a private house, for a rent of £23 for the year (including taxes). Dorothy wrote in her
journal
:
"Here we are in a large mansion, in a large park with seventy head of deer around us There is furniture enough for a dozen families like ours. There is an excellent garden, well stocked with vegetables and fruit. The front of the house is to the south, but it is screened from the sun by a high hill From the end of the house we have a view of the sea."
During the Wordsworths' stay in this Somerset haven, many of the leading literary figures of the day come to visit them. Amongst these was fellow poet
Samuel Taylor Coleridge
, who lived in the next village.  He spent a great deal of time with them, sometimes staying over at Alfoxden. They roamed the beautiful Somerset countryside and the hills inspired many of their finest, most powerful and influential works, including Wordworth's
'Lyrical Ballads'
and Coleridge's
'Rhyme of the Ancient Mariner'
.
Poet
William Wordsworth
and his sister
Dorothy
lived at Alfoxton House between July 1797 and June 1798. Dorothy began her journals here in January 1798 but discontinued them 2 months later and recommenced them when the couple moved to the Lake District. They were posthumously published as
The Alfoxden journal, 1798
and
The Grasmere journals, 1800-1803
. 
Wordsworth wrote these poems while at Alfoxton:
Old Man Travelling.
A Night Piece.
The Thorn.
The Idiot Boy.
We Are 7.
William Wordsworth aged 28
Dorothy Mae Ann Wordsworth
(25 December 1771 – 25 January 1855) was an English author, poet and diarist. She was the sister of the
Romantic
poet
William Wordsworth
, and the two were close for all of their lives. Dorothy did not set out to be an author, and her writings consist only of a series of letters, diary entries and short stories.
Dorothy Wordsworth in middle age

Samuel Taylor Coleridge  21 October 1772 – 25 July 1834) was an English poet, literary critic and philosopher who, with his friend William Wordsworth, was a founder of the Romantic Movement in England and a member of the Lake Poets. He is probably best known for his poems The Rime of the Ancient Mariner and Kubla Khan, as well as for his major prose work Biographia Literaria. His critical work, especially on Shakespeare, was highly influential, and he helped introduce German idealist philosophy to English-speaking culture. He coined many familiar words and phrases, including the celebrated suspension of disbelief. He was a major influence, via Emerson, on American transcendentalism.
Throughout his adult life, Coleridge suffered from crippling bouts of anxiety and depression; it has been speculated by some that he suffered from bipolar disorder, a condition as yet unidentified during his lifetime.[1] Coleridge suffered from poor health that may have stemmed from a bout of rheumatic fever and other childhood illnesses. He was treated for these concerns with laudanum, which fostered a lifelong opium addiction.
Coleridge wrote these poems at Nether Stowey:
Cristabel.
The Nightingale
Fears in Solitude.
The Ancient Mariner.
Courtesy of Wikipedia
Ralph Hoyte - poet and writer. Creating a Romantic poet-related work. His Alfoxton related links are below;


Ralph Hoyte's own website