Greetings! Welcome to the website for the HO scale City of Madison RR. Please note, this is a website for a proposed model railroad presented as a business site. This is not a real railroad, but is based upon the real Madison Railroad in southern Indiana. If you were looking for real CMPA, please go to
www.madisonrailroad.com
. The
other
Madison Railroad, a freelanced HO layout that someone else did with no prior knowledge of the prototype may be found in our Links page at right, under "Media". Thank you for browsing!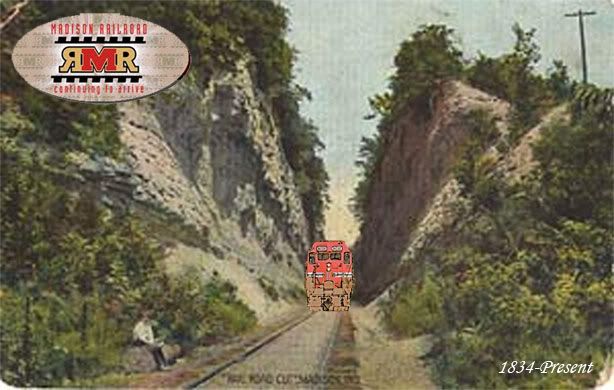 CMPA is a local company, run by local people, who make honest business relationships with our larger partners. We thrive off of the community; they thrive off of us. Therefore, it is only fitting that we respect and idolize them in the business that we do.
When CMPA, with help and guidance, reopened the Madison Incline to regular traffic, we did more than recreate a historic landmark; we rebirthed an entire town. The new grade brought in several new companies in place of ones that left, creating new, and more permanent jobs.
We now hold agreements with regualr shipments Indiana Railroad, the Naptwon & White River, the Half-Moon Orion & Northern, the Lapeer Kitzmiller & Ohio and subsidiary ACY, most Class 1s, and many smaller operators. We're charged with making sure not just goods, but their railcars--their investments-- make it to them on time and in good condition so they may begin their work immediately. Be it seasonal grain, new bicycles, or chemicals, they all need their stuff on time to make it work. And we don't just abandon the job once its out of our hands, we make sure that what we start gets finished. It isn't doing anyone any good just sitting stuck in a yard halfway through its journey afterall.