INTRODUCTION:
Meet the Teddy bear Cholla Cact
us also known as the Jumping Cholla Cactus! This is one neat plant. This plant lives in the Sonoran Desert and gives off a fuzzy teddy bear like a
ppearance, but do not let his fuzzy arms fool you, he has spines that could stick to you if you get to close! Wanna learn more about this interesting plant? Read the slide and play around with the page. There is a picture and link for more information....Do not foget to do the activity appropriate for your grade level and take the mini form at the end! Enjoy!)
I am a cactus known for my loose joint attachment, when people pass by I tend to cling to them.
My stems are separated into segments and that allows me to store water and allow for photosynthesis. My spines shade me from the desert heat. Water and light are my source of food.
HOW DO I LOOK?
I can sometimes be more greenish then gold.  I get beautiful flowers in April that are white and sometimes lavender and
blossom
all over me. From a distance I look fuzzy with big arms like a teddy bear, but get to close and you will see my fuzzy appearance is really silver spines!
You can find me hanging out in the Sonoran Desert. I am shorter then other cacti, so you can see me at lower elevations in the Arizona Sonoran Desert. You can also sometimes see me in groups hanging out with my other teddy bear friends.
HOW DO I REPRODUCE?
To reproduce 
new flowers grow off of previous flowers that did not grow the year before. Sometime when parts of me fall of I can sometimes reproduce from my fallen joints. I like to be in clumps with my other teddy bear cholla cacti.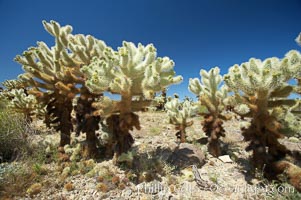 FUN FACT ABOUT ME?
I am called the Jumping Cholla Cactus because it is said that I will jump on you when you pass by me. So be careful when you go by me or else I might stick to you! My needles pick up light and then appear to glow.
ACTIVITY TIME!
Now it is time to share what you have learned. Find your grade level and complete the activity that follows :)
Hey Kindergarten try this activity!


-Draw a picture of a Teddy bear Cholla Cactus (the best you can) as it is suppose to look according to the description on the slide and write down one fact about the Teddy bear Cholla Cactus!
Hey First and Second grade, try this activity!
-Find a picture of the Teddy bear Cholla Cactus and decorate a poster with it on it and put down 3 facts that you learned about the Teddy bear Cholla Cactus!
Hey Third Graders, try this activity!
-Find 4 different pictures of the Teddy bear Cholla Cactus and put it into a powerpoint and state 4 facts about the Teddy bear Cholla Cactus as well! Also write a one page paper about all of the interesting new things you learned about the Teddy bear Cholla Cactus and share with the class!
NOW TAKE THIS QUIZ AND SEE HOW MUCH YOU KNOW ABOUT THE TEDDY BEAR CHOLLA CACTUS!
YOU CAN FIND MORE INFORMATION ABOUT ME BELOW!
Read all about my appearance and see more pictures of my beautiful flowers!

Check out the link above to learn more about my crazy self and more about how I like to stick to you!