INTRODUCTION:
Meet the Harvester Ant! This is one cool ant. This ant lives in the Sonoran Desert and is red and medium in size. Be careful it can bite and sting you and can be very painful! Wanna learn more about this interesting ant? Read the slide and play around with the page. There is a picture and link for more information. Do not foget to do the activity appropriate for your grade level and take the mini form at the end! Enjoy!)
WHO AM I?
I am a medium sized ant! I am red in color and can be one half inch long.
We have a strong sting so be careful.  We pinch and sting if disturbed! We can be very aggressive and give out a painful sting, it can be so strong you might get an allergic reaction. We also bite, but since we compete for food with the red fire ants our population is declining.
HOW DO I LOOK?
I am red and medium in size. I can be up to one half inch long. I have pincers on my head used for cutting grass, building my home, and biting predators.
I live in dry environments, like the Sonoran Desert. Be careful not to step on me and my fellow ants. I build my nest in open areas but they can be 4.6 m deep and be home to over 10,000 other ants!
WHAT DO I EAT?

I like to eat may different things. I like to eat on the different types of seeds from different grasses. Don't let my size fool you, I also like the bodies of insects and spiders, yum! 
HOW DO I REPRODUCE?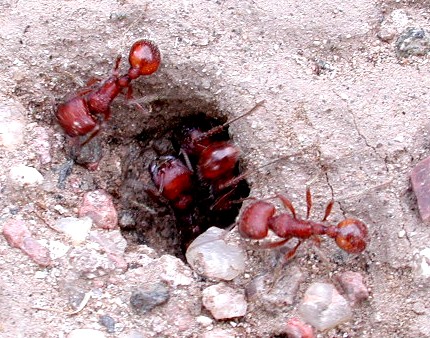 When we produce we come out of our separate places in the colony and mate then shed our wings and move to a new place. Males are only around to mate and once they do that they die shortly after.  The girl ants establish colonies and have the babies.
FUN FACT ABOUT ME?
Okay...want to learn something cool facts about me? I got my name because I have a habit of cutting little pieces of grass to build large mounds. I became famous in 2003 for being the first ant to travel in space! I spent 16 days on a NASA space shuttle called Columbia.
CHECK OUT THIS FUN ACTIVITY BELOW!
Find your grade leve below, and compete that activity!
Hey Kindergarten try this activity!
-Draw a picture of a Harvester Ant as it is suppose to look according to the description on the slide and write down one fact about the Harvester Ant next to your picture!
Hey First and Second grade, try this activity!
-Find a picture of the Harvester Ant and decorate a poster with it on it and put down 3 facts that you learned about the Harvester Ant!
Hey Third Graders, try this activity!
-Find 4 different pictures of the Harvester Ant and put it into a power point, state 4 facts about the Harvester Ant as well! Also write a one page paper about all of the interesting facts you learned about the Harvester Ant!
NOW LET"S SEE WHAT YOU LEARNED, TAKE THIS SHORT QUIZ, GOOD LUCK.
YOU CAN FIND MORE INFORMATION ABOUT ME BELOW!
Learn all about me and my fellow ants. We are pretty cool ants!

Red Harveter Ants
Check out this site to read more information about my family and where we live. It amazing how many of us live together!